Amazon Prime Video's adaptation of the super-dark superhero books The Boys was one of the biggest streaming hits of 2019. Bloody, cynical, action-packed, and funny AF, the Certified Fresh show – co-created by Eric Kripke, Seth Rogen, and Evan Goldberg – stood out from the spandex-clad pack with its inventive take on a corporatized superhero culture, and the creation of some truly memorable characters.
Heading into season 2, Rotten Tomatoes sat down with Kripke and the cast to dive deep into the show's lead supes and supe-chasers, breaking down their origins, strengths and weaknesses, where we left them at the end of season 1, and what we can expect from them in new episodes, landing on Amazon Prime Video on September 4. Want to know how Homelander's going to cope without his mommy figure? What Giancarlo Esposito plans to bring to his mysterious Vought leader, Stan Edgar? Why the show gender-flipped the book's version of dangerous newcomer Stormfront? And how it feels to have the "dumbest f—king power" of the group? Kripke and cast members Karl Urban, Jack Quaid, Antony Starr, Erin Moriarty, Aya Cash, Jessie T. Usher, Chase Crawford, Karen Fukuhara, Tomer Capon, Laz Alonso, and Giancarlo Esposito have the answers.
The Boys season 2's first three episodes will premiere on Prime Video on Friday, September 4 with new episodes available each subsequent Friday through October 9.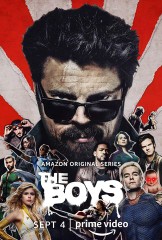 Critics Consensus:
The Boys
comes out swinging in a superb second season that digs deeper into its complicated characters and ups the action ante without pulling any punches.