With Thor: Ragnarok, writer-director Taika Waititi showed there was a different way to do comic-book movies; with his follow-up film, Jojo Rabbit, he's showing there's a different way to look at World War 2. That different way is through the eyes of 10-year-old Jojo (Roman Griffin Davis), a young German nationalist who finds his allegiances to his country challenged when he learns his mother (played by Scarlett Johansson) is housing a Jewish teenager in the attic. To help cope he turns to his imaginary friend Adolf, an eccentric version of the Führer played with flair by Waititi himself. Jojo Rabbit won the Audience Award at the 2019 Toronto International Film Festival, and has been impressing critics with its bold, satirical, and laugh-out-loud look at Nazi Germany and the nature of hate. As the film hits theaters on a wave of Oscar buzz, Rotten Tomatoes editor Jacqueline Coley sat down for an extended interview with Waititi to talk about his vision for the film, working with kids, and why he chose to play this imaginary Hitler himself.
#1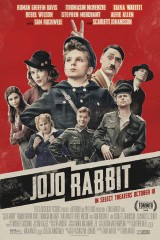 Critics Consensus:
Jojo Rabbit
's blend of irreverent humor and serious ideas definitely won't be to everyone's taste -- but either way, this anti-hate satire is audacious to a fault.
Synopsis:
Jojo is a lonely German boy who discovers that his single mother is hiding a Jewish girl in their attic....
[More]
---
Like this? Subscribe to our newsletter and get more features, news, and guides in your inbox every week.
---