Got a ghost problem? A rogue vampire keeping you up at night? A spawn of Satan disturbing your peace? If so, there are two teams you can rely on to crack the case: The Winchester Brothers of TV's Supernatural or the "Scooby Gang" and its hilarious namesake, Scooby-Doo. But which is better suited to solve your supernatural issues? In our latest episode of Vs., we're pitting the long-running series Supernatural against everything Scooby-Doo – the original cartoon, its spin-offs, and the live-action movies. Which mystery-solvers are more popular with the people and the critics? Which franchise features the richest characters? And which team has faced off against the most dastardly villains? Find out as Rotten Tomatoes Contributing Editor Mark Ellis breaks it down to decide whether you should hop in the Mystery Van or the Winchesters' Chevy when the ghouls come a-calling.
As ever, if you don't agree with our choice of winner, let us have it in the comments.
---
Scoob! will be released digitally May 15, 2020. Supernatural airs on the CW, next air dates are unknown. 
#1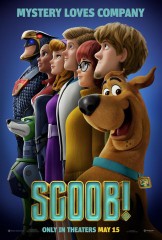 Critics Consensus:
Scoob!
is fun enough for youthful viewers and some hardcore fans, but never quite solves the mystery of why audiences shouldn't watch old episodes instead.
Synopsis:
With hundreds of cases solved and adventures shared, Scooby and the gang face their biggest, most challenging mystery ever --...
[More]
---
Thumbnail: CW / © Warner Bros.