OK, commenters: Fire up your engines because we're tackling a big one in our latest edition of Vs., pitting the Star Wars Prequels against the Star Wars Sequels and declaring definitively which galactic triptych is the superior set of films. We're looking at box office data and Tomatometer scores for Episodes 1-3 and 7-9, as well as which trilogy delivered the best moments and gave us the most memorable characters. Are you a Darth Maul vs. Qui-Gon vs. Obi-Wan person? Or do you prefer your lightsaber battles more of the Throne Room variety? Does a Jar Jar Binks outweigh the awesomeness of Ewan McGregor's young Obi-Wan? And how do they compare to Babu Frik? Watch above as Rotten Tomatoes Contributing Editor Mark Ellis lays out the case for both trilogies and – bravely – declares a winner.
---
Star Wars: The Rise of Skywalker is available digitally on March 17, 2020. 
#1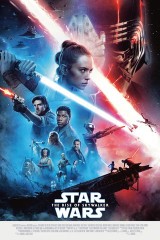 Critics Consensus:
Star Wars: The Rise of Skywalker
suffers from a frustrating lack of imagination, but concludes this beloved saga with fan-focused devotion.
Synopsis:
When it's discovered that the evil Emperor Palpatine did not die at the hands of Darth Vader, the rebels must...
[More]
---
Like this? Subscribe to our newsletter and get more features, news, and guides in your inbox every week.