This week at the movies, we've got animated espionage (Spies in Disguise, featuring the voices of Will Smith and Tom Holland), a literary adaptation (Little Women, starring Saoirse Ronan and Timothée Chalamet), and a man in serious debt (Uncut Gems, starring Adam Sandler and Julia Fox). What are the critics saying?
---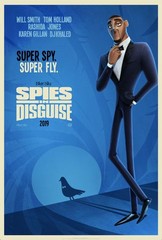 If you're going to cast a family-friendly adventure, you could definitely do worse than Will "Aladdin's New Genie" Smith and Tom "Spider-Man" Holland. Sure, they're only providing their voices in this week's Spies in Disguise, but not only are they recognizable faces, they're also genuinely great performers, which means they're still capable of pretty good chemistry even in animated roles. Here, Smith voices top-notch spy Lance Sterling, who finds himself framed for treason and forced to turn to technological whiz kid Walter Beckett (Holland) for help. Unfortunately, that help comes in the form of Walter accidentally transforming Lance into a pigeon, which Lance then uses to his advantage to clear his name and save the world (of course). If that all sounds like something you've heard before (minus the turning-into-a-pigeon part), it's probably because Spies in Disguise uses fairly standard spy movie plotting, and some critics thought that made it another forgettable children's film to add to an already monumental pile. Most critics, however, felt Spies was charming enough, with solid work from its cast (which also includes Rashida Jones, Rachel Brosnahan, Karen Gillan, and perennial villain Ben Mendelsohn) and enough color and goofy flourishes to keep younger viewers engaged. If you're looking for a post-Christmas outing for the whole family, this is a decent option.
---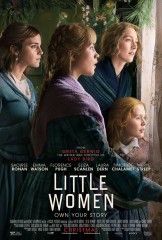 Longtime actress and sometime screenwriter Greta Gerwig had a pretty spectacular directorial debut in 2017 with Lady Bird, earning almost unanimous critical acclaim en route to five Oscar nominations, including Best Picture and Best Director. Naturally, she decided to follow up that success with a new adaptation of a classic American novel, namely Louisa May Alcott's Little Women. Though the decision puzzled a few people who wondered why Gerwig wouldn't continue with original projects, many of those who have now seen the film say it all makes sense. The cast assembled includes not only the return of Lady Bird's Best Actress-nominated star, Saoirse Ronan, and its love interest, Timothée Chalamet, but also Florence Pugh, Emma Watson, Laura Dern, Bob Odenkirk, Chris Cooper, and the all-powerful Meryl Streep, so that alone makes it worthy of some attention. But Gerwig also cleverly manages to infuse the tale of the March women with some modern sensibilities, even as she remains faithful to the source material — it's a balancing act that more than a few critics have noted as extraordinary, and it reinforces how timeless Alcott's novel is. It's a warm, genial film that should leave audiences in good spirits, making it a rather perfect holiday treat for families who may not be interested in talking pigeons.
---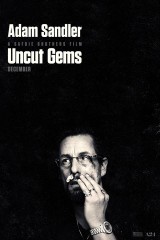 Josh and Benny Safdie had something of a coming-out party last year with Good Time, a kinetic thriller that showcased some of the best work of star Robert Pattinson's post-Twilight career. The Safdies decided to follow that up with another tense drama, this time starring frequent critical whipping boy Adam Sandler, and most critics agree the risk paid off in spades. In Uncut Gems, Sandler plays Howard, a New York City jeweler with a self-destructive gambling addiction who regularly places sporting bets with money that doesn't belong to him. Howard comes into possession of a rare, uncut Ethiopian opal that captures the attention of NBA star Kevin Garnett, which leads to a series of ill-advised collateral swaps, basketball wagers, and mob-style shakedowns as he attempts to pay off his debts by selling the stone at auction. Critics say the Certified Fresh Uncut Gems is a relentless thrill-ride that amps up the anxiety at every turn and benefits from stellar work by its cast, especially Sandler, who had some folks pegging him for a Best Actor nod at the Oscars. He's proven in the past that with the right material, he can pull off serious roles like nobody's business, and this is quite possibly his best effort to date. The film is unnerving and propulsive, and it should lead to even bigger opportunities for the Safdies. [Note: This film opened in limited release on December 13, but expands into wide release this week.]
---
Also Opening This Week In Limited Release
---
Like this? Subscribe to our newsletter and get more features, news, and guides in your inbox every week.