As more and more people are compelled to practice social distancing and encouraged to stay home, as movie theaters temporarily shutter their doors, and as studios continue to pull their scheduled 2020 films off the release calendar, we've decided to reformat the Critics Consensus column to focus on titles that are newly available on the home entertainment market. With that in mind, our list of digital new releases this week includes an animated adventure and a crime drama that both premiered on VOD. See below for details.
---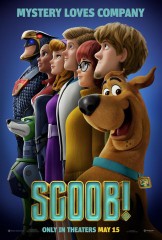 Back in early April, Universal's Trolls World Tour became the first major movie of the year to largely forego a theatrical release (due to widespread theater closures) and premiere simultaneously on VOD, and it became a notable streaming success for the studio. It wasn't long after that we learned Warner Bros. would do the same for its own animated offering, a reboot of the Scooby-Doo gang called Scoob!, and that film is available today. The story recounts how Scooby-Doo, voiced by longtime vet Frank Welker, first met his best pal Shaggy (Will Forte) and teamed up with Fred (Mark Wahlberg), Daphne (Amanda Seyfried), and Velma (Gina Rodriguez) to solve mysteries, and then dives into their latest challenge as they attempt to discover the secret behind a ghostly dog. Fans of the live-action adaptations of the early 2000s bemoaned the exclusion of Matthew Lillard as the voice of Shaggy, but critics say that's the least of their worries here. While Scoob! is enjoyable enough for longtime Scooby-Doo followers and young viewers, it doesn't offer much outside of its updated computer animation to set it apart from the classic series on which it's based. In other words, it's another disposable family adventure that goes down easily enough but won't leave much of a lasting impact.
Available now on: FandangoNOW, Vudu, Amazon, Google Play, iTunes
---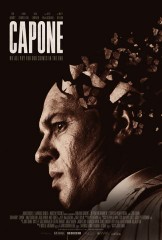 After his breakout debut feature Chronicle, it seemed like writer-director Josh Trank was poised to become a part of the next wave of hotshot filmmakers groomed to take on big Hollywood films. He got that opportunity with his next movie, Fox's attempt to reboot Fantastic Four, and, well, it bombed rather spectacularly, which also led to his leaving a planned Star Wars standalone film. This week, however, Trank resurfaced with his latest, a crime drama centered on the final years of notorious mobster Al Capone's life, with a heavily made-up Tom Hardy in the lead role. Positioned as Trank's reentry to the mainstream, Capone catches up with its anti-hero at the age of 47, just as he's released from a decade-long stint in prison and suffering from dementia. As he slowly succumbs to his condition, he attempts to remember the location of a secret stash of money he hid on his property. Critics say Capone is some of the most challenging work Hardy has taken on in recent memory, and he commits his all to it, but the material surrounding him is shoddily crafted and full of bizarre directorial choices. Linda Cardellini sparks some life into the proceedings as Capone's put-upon wife Mae, and the supporting cast includes capable actors like Matt Dillon, Kyle McLachlan, and Jack Lowden, but there's a lot going on in this film, and there just isn't enough to hold it all together coherently.
Available now on: FandangoNOW, Vudu, Amazon, Google Play, iTunes
---
Thumbnail image by Warner Bros. Pictures