Linda Hamilton returns to the big screen this month as Sarah Connor some 28 years since she last played the character in Terminator 2: Judgment Day. The original Sarah Connor's re-emergence in Terminator: Dark Fate has many fans of no-BS, ass-kicking sci-fi heroines wondering if and when Sigourney Weaver might similarly return to play Ellen Ripley in a new Alien film. One can dream. To celebrate the return of Hamilton to the Terminator franchise, we're releasing a special episode of our Versus series, pitting Sarah Connor against Ellen Ripley. We're breaking down the competition by Tomatometer, box office receipts, the enemies they've faced, and letting them duke it out in one special wild card round. Join Mark Ellis as he steers us through an epic sci-fi battle: Sarah Connor vs. Ripley.
Terminator: Dark Fate is in theaters November 1.

#1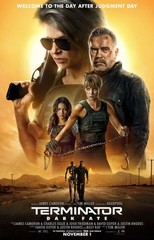 Critics Consensus:
Terminator: Dark Fate
represents a significant upgrade over its immediate predecessors, even if it lacks the thrilling firepower of the franchise's best installments.
Synopsis:
In Mexico City, a newly modified liquid Terminator -- the Rev-9 model -- arrives from the future to kill a...
[More]
---
Like this? Subscribe to our newsletter and get more features, news, and guides in your inbox every week.