Robert Eggers became one of the most talked-about new directors of recent times when his The Witch premiered at Sundance in 2015 and went on to become an indie hit and one of the defining films of the new wave of "elevated horror." Rumors swirled that he would follow the 17th-century horror tale with a reimagining of Nosferatu, but he instead began work on a mysterious story about two men trapped in a battle of wills – and of disintegrating minds – set in a lighthouse off the coast of New England. That film, The Lighthouse, stars Robert Pattinson and Willem Dafoe as the 19th-century "wickies," or lighthouse keepers, who find themselves trapped in the titular structure when a mammoth storm hits; released in limited theaters last week, it's been drumming up big box office receipts and even bigger questions from audiences who've seen it. Questions like: What the f–k was that? As the mind-bending, critically acclaimed flick expands into hundreds of theaters across the country, Rotten Tomatoes Editor-in-Chief Joel Meares sat down with Eggers and Pattinson for an exclusive extended interview about The Lighthouse in which the director and actor talk about getting really weird, grabbing co-stars' dicks, working with gulls, and stretching the idea of genre to its limits.
#1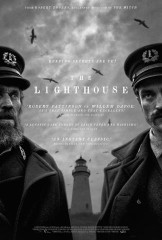 Critics Consensus:
A gripping story brilliantly filmed and led by a pair of powerhouse performances,
The Lighthouse
further establishes Robert Eggers as a filmmaker of exceptional talent.
Synopsis:
Two lighthouse keepers try to maintain their sanity while living on a remote and mysterious New England island in the...
[More]
---
Like this? Subscribe to our newsletter and get more features, news, and guides in your inbox every week.
---