This week, Christy takes a look at the psychological thriller starring Sanaa Lathan and Michael Ealy, which is new in theaters, and a sci-fi drama starring Blake Lively, new on DVD.
---
NEW IN THEATERS
Rating: PG-13, for violence, menace, sexuality and brief strong language.
This romantic thriller is going to be too racy for the younger viewers in the house, even your mature tweens. Sanaa Lathan stars as Leah, a Los Angeles-based lobbyist who seems to have it all: brains, looks, power, a beautiful home in the hills and a handsome longtime boyfriend (Morris Chestnut). But she's ready to start a family and he isn't, which drives her into the arms of the charming Carter (Michael Ealy). He seems perfect, hence the title. But he's actually a super-psycho stalker who beats a stranger to a pulp for a perceived, minor offense right before Leah's eyes. He also breaks into her house, steals her cat, installs surveillance equipment, hacks into her computer and calls and texts her incessantly. Oh, and he pushes the old lady across the street down a flight of stairs when he realizes she's onto his antics and causes a deadly car accident for another character. In happier times, Leah and Carter engage in some sloppy bathroom sex at a club. There's also some language.

---
NEW ON DVD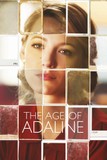 Rating: PG-13, for a suggestive comment.
Blake Lively stars in this romantic fantasy as a beautiful woman who stopped aging at 29 after a cosmic car accident. Decades later, she's been moving around and changing her identity to avoid being discovered — and she's been reluctant to connect with anyone emotionally. This handsomely made movie also features a couple of major car crashes. It suggests that Adaline has sex with the handsome philanthropist (Michiel Huisman) she allows herself to fall for, but we don't actually see anything. There's also a dog death, which might choke you up. (It bothered me). And it features some very mature notions about love and immortality. Still, this is probably fine for tweens and older — especially those with an interest in history or fashion. The statuesque Lively gets to wear some gorgeous period clothes.