This week, Christy give us the lowdown on a horror comedy inspired by the work of author R.L. Stine, a cold war thriller from Steven Spielberg, and on DVD, a George Clooney-powered Disney fantasy adventure. Read on to find out all the details.
---
NEW IN THEATERS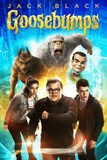 Rating: PG, for scary and intense creature action and images, and for some rude humor.
The Goosebumps books come to life – just in time for Halloween – in this live-action horror comedy. The new kid in town, Zach (Dylan Minnette), finds out that his reclusive, next-door neighbor is actually the author R.L. Stine (Jack Black). During an ill-fated adventure with Stine's sheltered teenage daughter (Odeya Rush), sealed manuscripts of Stine's work burst open and the characters leap out to wreak havoc on a peaceful, small town. A lot of the imagery is silly and playful – an army of adorable yard gnomes causing chaos, for example. But much of it might be too scary for the littlest kids in your family – a giant preying mantis creating mass destruction, or a creepy ventriloquist's dummy spewing venomous threats. (The latter freaked me out, that's for sure.) But Goosebumps is actually a lot of fun for the adults in the audience, and it feels like a throwback to '80s films of this ilk like Gremlins, in which actual danger was in store for the characters. This is probably fine for kids around 8 and older.

---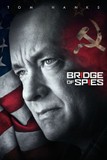 Rating: PG-13, for some violence and brief strong language.
Steven Spielberg's Cold War drama is based on the true story of the American attorney (Tom Hanks) who negotiated the release of a U-2 spy plane pilot (Austin Stowell) captured in the Soviet Union in exchange for a Russian spy (Mark Rylance) discovered living in New York. It's impeccably made, as you would expect from Spielberg, but it's a slow burn, and the two-plus-hour running time might make it a tough sit for younger viewers. There's some violence here – a prisoner endures a harsh interrogation, and some people are shot while trying to escape East Berlin. There's also quite a bit of language and just a general unease that prevails because of U.S.-Soviet tensions. But if older kids in your family are interested in history (and excellent filmmaking), this would be a smart, challenging choice for them. Fine for viewers around 13 and older.

---
NEW ON DVD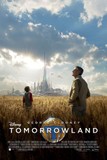 Rating: PG, for sequences of sci-fi action violence and peril, thematic elements, and language.
The section of Disneyland that features the Space Mountain and Star Tours rides inspires this live-action, sci-fi adventure. George Clooney and Britt Robertson star as strangers linked by a mysterious pin that transports them to a magical, futuristic land when they touch it. A robot in the form of a plucky teenage girl (Raffey Cassidy) brings them together in hopes that they'll be able to save the place from falling apart. Two-time Oscar winner Brad Bird (The Incredibles, Ratatouille) directed from a script he co-wrote with Lost co-creator Damon Lindelof, so the loftier philosophical elements of the script may go over younger viewers' heads. But the film's dreamy, central message — do something great with your talents and make the world a better place — couldn't be clearer. Bad guys are after our heroes in both human and robot form, and many chases and shootouts with laser guns ensue in which characters get disintegrated. And at one point, a truck hits the little girl/robot, but she's fine. OK for kids around 8 and older.