It's a pretty thin week for new DVDs — the only notable brand new release is a sci-fi thriller starring Jake Gyllenhaal and Ryan Reynolds — but there are some… interesting choices if you're looking for a re-release of an older film. Read on for the full list.
---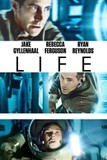 Jake Gyllenhaal and Ryan Reynolds star in this sci-fi thriller about a team of ISS astronauts who discover an extraterrestrial organism in space and find out it's more intelligent than they expected. It comes with deleted scenes and making-of featurettes on shooting in zero G, the creature design, and the film's themes.
---
Also Available This Week:
From Criterion, we have Marcel Pagnol's classic Marseille trilogy from the 1930s, developed from Pagnol's stage plays, which alternately tells the generation-spanning tales of a busboy who dreams of a sailor's life (Marius, 1931, 100 percent), the woman who becomes his wife (Fanny, 1932), and his father, who owns the seaside bar where he works (César, 1936, 100 percent).
Next, from Arrow, we have a new edition of The Bird with the Crystal Plumage (1970, 91 percent), the feature debut of Italian giallo legend Dario Argento (and scored by Ennio Morricone) that centers on a writer who thinks he may hold the key to a police investigation after he witnesses a brutal attack on a woman one night.
Moonstruck screenwriter John Patrick Shanley's own directorial debut, Joe Versus the Volcano (1990, 61 percent), is probably best known as the first — and arguably quirkiest — film to pair Tom Hanks and Meg Ryan together, but the unconventional rom-com has a pretty committed cult following, and it's available in a new Blu-ray.
Lastly, we have Hal Ashby's final feature film — a crime novel adaptation from 1986 scripted by Oliver Stone and starring Jeff Bridges, Rosanna Arquette, and Andy Garcia. Sounds fairly promising, right? Pretty much nobody who saw it thought so; 8 Million Ways to Die currently sports a zero percent, but you can own it tomorrow anyway.