(Photo by Disney+)
A filmed version of the Broadway musical sensation Hamilton takes center stage on Disney+ just in time for the July 4 holiday weekend. Director Thomas Kail lovingly captured a performance by the original cast of the Broadway musical, which won 11 Tony Awards. The film version was quickly Certified Fresh on Rotten Tomatoes and currently holds a perfect 100% score.
Plus, Solo: A Star Wars Story, telling the tale of a young Han Solo and the origins of his friendship with Chewbacca and ownership of the Millennium Falcon, lands on the streamer. The film stars Alden Ehrenreich as the titular space cowboy, with Joonas Suotamo, as Chewbacca, Donald Glover as Lando Calrissian, Emilia Clarke as Qi'ra, and Woody Harrelson as Beckett.
The Muppets also return in new "unscripted" series Muppets Now. Kermit, Miss Piggy, and the rest of the gang return for the latest adventure set in the Muppet universe.
Find out what else the family-friendly streaming service offers in the month, starting with our top picks.
---
Read also: 
---
HIGHLIGHTS
---
---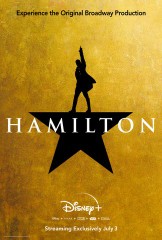 Description: 
An unforgettable cinematic stage performance, the filmed version of the original Broadway production of
Hamilton
combines the best elements of live theater, film and streaming to bring the cultural phenomenon to homes around the world for a thrilling, once-in-a-lifetime experience.
Critics Consensus: Look around, look around at how beautifully Hamilton shines beyond Broadway — and at how marvelously Thomas Kail captures the stage show's infectious energy.
Premiere Date: July 3

---
---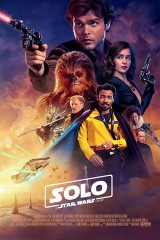 Description:
 Board the Millennium Falcon and journey to a galaxy far, far away in
Solo: A Star Wars Story
, an all-new adventure with the most beloved scoundrel in the galaxy. Through a series of daring escapades deep within a dark and dangerous criminal underworld, Han Solo meets his mighty future copilot Chewbacca and encounters the notorious gambler Lando Calrissian, in a journey that will set the course of one of the
Star Wars
saga's most unlikely heroes.
Critics Consensus: A flawed yet fun and fast-paced space adventure, Solo: A Star Wars Story should satisfy newcomers to the saga as well as longtime fans who check their expectations at the theater door.
Premiere Date: July 10

---
---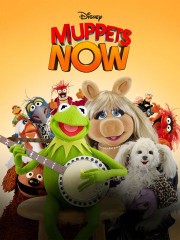 Description: 
Scooter rushes to make his delivery deadlines and upload the brand-new Muppet series for streaming. They are due now, and he'll need to navigate whatever obstacles, distractions, and complications the rest of the Muppet gang throws at him.
Premiere Date: July 31

---
Available 7/3
Hamilton (2020) 98%
Pixar in Real Life: Season 1 (2019) -- – "UP: Balloon Cart Away"
Disney Family Sundays: Season 1 (2019) -- – "Peter Pan: Shadow Box Theater"
One Day at Disney: Shorts: Season 1 (2019) -- – "Zama Magudulela: The Lion King Madrid, Spain"
It's a Dog's Life With Bill Farmer: Season 1 (2020) -- – "Movie Star Dogs & Hounds and Horses"
Animal ER: Season 1 – 2
Diary of a Wimpy Kid: Rodrick Rules (2011) 47%
Ice Age: Collision Course (2016) 18%
Ice Road Rescue (S1-4)
Race to Witch Mountain (2009) 42%
The Big Green (1995) 0%
The Mighty Ducks (1992) 21%
---
Available 7/10
Disney Family Sundays: Season 1 (2019) -- – "Lilo and Stitch: Family Tree"
One Day at Disney: Shorts: Season 1 (2019) -- – "Marc Smith: Story Artist"
It's a Dog's Life With Bill Farmer: Season 1 (2020) -- – "Movie Star Dogs & Hounds and Horses"
Critter Fixers: Country Vets: Season 1
() --
Secrets of the Zoo: Season 3 (2020) --
Solo: A Star Wars Story (2018) 69%
---
Available 7/17
Disney Family Sundays: Season 1 (2019) -- – "Moana: Tomato Photo Holder"
One Day at Disney: Shorts: Season 1 (2019) -- – "Mike Davie: Imagineering Project Manager"
It's a Dog's Life With Bill Farmer: Season 1 (2020) -- – "Snake Search Dogs & Hawaiian Conservation Dogs"
A Pre-Opening Report from Disneyland
Diary of a Wimpy Kid: The Long Haul (2017) 18%
Disney Junior Music Lullabies
Lost City of Machu Picchu
Super Robot Monkey Team Hyperforce Go! --: Season 1 – 2
The Mousketeers at Walt Disney World
Wild Chile: Season 1
---
Available 7/24
Rogue Trip: Season 1
Disney Family Sundays: Season 1 (2019) -- – "The Jungle Book: Finger Puppet"
One Day at Disney: Shorts: Season 1 (2019) -- – "Chris Cristi: Helicopter Reporter"
Wild Congo: Season 1
Wild Sri Lanka: Season 1
---
Available 7/31
Muppets Now: Season 1 (2020) 69% – "Due Date"
Disney Family Sundays: Season 1 (2019) -- – "Mickey and Minnie: Pillows"
One Day at Disney: Shorts: Season 1 (2019) -- – "Lauren Cabo: Imagineering Portfolio Creative Executive"
Alaska Animal Rescue: Season 1
Animal Showdown: Season 1
Best Job Ever: Season 1
Big Cat Games
Cradle of the Gods
Destination World: Season 1
Dr. Oakley, Yukon Vet: Season 8
Fearless Adventures with Jack Randall: Season 1
Hidden Kingdoms of China
Hunt for the Abominable Snowman
India's Wild Leopards
Jungle Animal Rescue: Season 1
King Fishers: Season 1
Lost Temple of the Inca
Marvel Funko: Season 1
Surviving the Mount St. Helens Disaster
Weirdest, Bestest, Truest: Season 1
What Sam Sees: Season 1
---
Thumbnail images by © Lucasfilm/ © Walt Disney Studios Motion Pictures /courtesy Everett Collection; Disney+