Watch: Nick Cassavetes on the famous kiss in the rain from The Notebook above.
In 2019, Rotten Tomatoes turns 21, and to mark the occasion we're celebrating the 21 Most Memorable Moments from the movies over the last 21 years. In this special video series, we speak to the actors and filmmakers who made those moments happen, revealing behind-the-scenes details of how they came to be and diving deep into why they've stuck with us for so long. Once we've announced all 21, it will be up to you, the fans, to vote for which is the most memorable moment of all. In this episode of our '21 Most Memorable Moments' series, director Nick Cassavetes takes us behind the scenes – and the drama – of The Notebook's most famous scene. 
VOTE FOR THIS MOMENT IN OUR 21 MOST MEMORABLE MOVIE MOMENTS POLL
---
It would be hard to argue that there is a more beloved romantic film from the last 21 years than The Notebook, the movie about forbidden love and stashed-away letters and rain-soaked makeout sessions that – for better or worse – kicked off a deluge of Nicholas Sparks romance adaptations. The story of poor boy Noah and rich girl Allie and their bumpy road to romance struck a serious chord with audiences, if not critics (despite its lasting impact, the movie is actually Rotten on the Tomatometer at 53%). The Notebook was nothing new – and Sparks had been adapted before with A Walk to Remember and Message in a Bottle – but it was beautifully handled, and packed with indelible moments that still set the heart racing and tears flowing. And then there were the performances. We will never forget the tenderness between the older Noah and Allie, played by James Garner and Gena Rowlands, and the heat between the younger Noah and Allie, played by Ryan Gosling and Rachel McAdams. As the film turns 15, we spoke with director Nick Cassavetes, who happens to be Rowlands' son, about how he found the perfect couple to bring The Notebook to life.
"The character of the relationship was: they never agreed on anything."
"A lot of the book is very sweet: 'I love you, I love that you love me, I love the fact that you love the fact that I love you.' It was a lot of overstating of love, which was not this particular director's experience. I've been in love, and they said, 'Well, what is your experience?' And I said, 'Well, it's a lot of arguing.' And so, the couple, we conceived them as they argued, and even though it was forbidden fruit and she came back and the audience wanted something to happen and pretty much we knew it was gonna happen, they had to still retain their character – the character of the relationship was: they never agreed on anything."
"I was convinced that Ryan was maybe a generational talent."
"I was convinced after seeing Ryan in The Believer that he was maybe a generational talent. And so when I approached him, I said, 'I don't want to make the movie unless you do it. I have big, apple pie feelings about love, and I want the person who plays this part to be a good representative of the male species… and the guy's gotta be you.' And apparently he responds to that. He was in on all the casting and our great casting director, Matt Barry, brought in all the top young people, a lot of people I had never heard of when they came in. The studio was very, very, very lenient in this process. I think that they were just a really great studio to work for back then, New Line, and they said, 'Cast whoever you want.' They would've preferred if I had cast Katie Beckinsale or [someone else]… but they said, 'The best actress wins.'"
"Ryan says, 'Give her my salary, I don't care. We have to have her.'"
"It was really one day of actresses coming in, and a lot of well-known people came in that day. Going into the very last performance, it was Jessie Biel that looked like a shoo-in to walk away with the part. And I had already kind of made plans in my mind for her to do the role. I remember I walked out right before Rachel came in to audition. I wanted to kind of like walk out and pretend, like, go to my car and see how many more people were there, because the audition process is always a deeply stressful kind of a process for me, so I was hoping it would be over soon. And there was only one girl out there and she had a little short haircut and was smoking a cigarette and I can't remember if it was a leather jacket, but some kind of like a little punky jacket. I'm like, 'Oh, good, there's only one more girl.' This girl came in and she just lit it up. I didn't know who she was. She photographs great, she's a beautiful girl, and she's a fighter, man. She is a hell of an executor. And when Ryan started to play a little bit during the scenes, she was right there with him and he got excited and then we read another scene, and we read another scene. And after the audition, he said, 'I don't care what happens, we have to have her.' I said, 'No, I know that. We'll get her.' He says, 'Give her my salary, I don't care. We have to have her.' I said, 'You don't need to give her your salary. We're gonna hire her.' And we did."
---
The Moment: A Kiss in the Rain 
"I wrote you 365 letters – I wrote you every day for a year." With that line, Gosling's Noah breaks the tension between him and Allie and what follows is a kiss for the ages. And for the posters. And for the meme-makers. It also broke the tension between the two actors involved, says Cassavetes, who walks us through how he created a rainstorm and the movie's defining moment.
"It'll be better if they get caught in a thunderstorm."
"We shot at a pier in a place that was adjacent to where the house was. It was a bright, beautiful, sunny day and it just didn't feel right. So we shut it down and we came back, and I said, 'Bring some rain machines in and try to find me a cloudy day. It'll be better if they get caught in a thunderstorm.' So we shot the whole thunderstorm sequence. It was one of the coldest days – poor Rachel and Ryan were champions that day because it was in the wintertime. We brought the rain machines in and it seemed to just heighten the sensuality for the scene."
"You know, the weird thing about the rain is too much kind of looks fake."
"It was easy [to create the downpour]. There are some generators and there are rain towers, which don't necessarily look good. We didn't have a lot of money on the film, so we just had standard rain towers, which are just big metal tripod-y things that have big sprinklers at the top and you localize the rain. You put the camera where you want it and then you put the unfortunate stand-ins in the spot and then you adjust the sprinklers until it looks like it's raining – because there are places where it can get blotty, it can get thin or overdone. You just set the scene and basically for that area it is raining. It's just not raining anywhere else. You know, the weird thing about the rain is too much kind of looks fake. You gotta get a right balance and also you have to light it right, otherwise it's very easy for rain to look manufactured. But it was plenty enough to get all their clothes wet and all that kind of stuff that everybody likes."
"Initially they didn't get along. And I think it's because they had so much beneath the surface."
"There was [tension between Ryan and Rachel] initially. I kind of just ran my mouth in an interview a long time ago and I heard that they were upset about it, that I had said something negative about it or revealed something about it, but it's true. Rachel and Ryan were kind of insular actors. They were each doing their own thing and it was really great, but initially they didn't get along. And I think it's because they had so much beneath the surface, chemistry. It all boiled over one day and I said, 'You two guys get in a room and go with a producer – this sounds like a producer problem, not a director problem.' I stuck the producer and the two of them in a trailer. There was much heated dialogue and when they came out, it wasn't resolved but it was much, much better. And pretty soon it was fabulous, it was fabulous."
"When that door got unlocked, I didn't need to direct nothing."
"When you saw the kids come together, it was like a car crash. There was something built up between these two kids, and it has nothing to do with directing. Because when we turned the cameras on, the scene was like: He's mad at her, she's mad at him, and then he says that he wrote her every day, and that's the key that unlocks the door. And when that door got unlocked, I didn't need to direct nothing. These kids were on each other and I think that a lot of it was character, but a lot of it was … They wound up together for many years after the movie, which is…I don't know if I'm proud of it, but I think it's fantastic that they found each other like that. And I think that was the moment, because they weren't together before that kiss. But they were together after that kiss, so maybe that was one of the deciding moments."
---
The Impact: A Modern Romance Classic
Want a sense of the impact of The Notebook? Go to your local multiplex sometime. The preponderance of posters featuring two young lovers staring with un-ironic longing at each other can be traced back to the success of Cassavetes' movie. It was a sleeper hit, opening without much noise but going on to become the 15th highest-grossing romantic drama ever; and more than that, it was a pop-culture phenomenon. (We will never forget the Ryan Reynolds-Conan O'Brien parody.) It also made mega stars of McAdams and Gosling, who would go on to have their own IRL romance and remain some of the most bankable leads in Hollywood. For Cassavetes, the movie hit a nerve for a simple reason: it was a kind of blueprint for what love could and should be.
"I think that people should strive to fall in love like that all the time."
"I'm always stunned by the reaction that people have to the movie because, for me anyway, I think that people should strive to fall in love like that all the time. Otherwise, we live in such a fully, kind of convenient world where everything is at our fingertips. If you don't love that hard, then I don't see the point in it."
---
The Notebook was released on June 25, 2004. Buy or rent it at FandangoNOW.
#1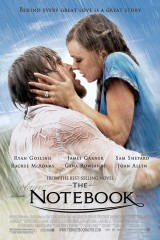 Critics Consensus:
It's hard not to admire its unabashed sentimentality, but
The Notebook
is too clumsily manipulative to rise above its melodramatic clichés.
Synopsis:
In 1940s South Carolina, mill worker Noah Calhoun (Ryan Gosling) and rich girl Allie (Rachel McAdams) are desperately in love....
[More]