Recently, Rotten Tomatoes expanded our list of the best-reviewed LGBTQ movies of all time to 200 films. We dive deeper into one of the best movies on that list, The Birdcage, which is celebrating its 25th anniversary.
As the kind of sissy boy whom my schoolmates scolded for my lack of soccer skills and my predilection for choir practice (I was a soprano, naturally), I spent much of my childhood wrestling with my own seemingly insufficient masculinity. Despite how obviously I failed at performing manliness, I was wracked with anxiety about how I knew I should act. This is not as uncommon an experience as I felt it was. Whether you grew up in Colombia, as I did, or in the South of France or in Miami, the pressures of acting like a man were as soul-crushing as they were laughable. This is what one of my favorite movies growing up taught me, though not until I revisited it decades later.
The Birdcage is, above all, a farce about masculinity. About its frailty and its attendant anxieties. Based on Édouard Molinaro's La Cage aux Folles, Mike Nichols's broad comedy stars Robin Williams (in khakis and a Selleck-ish mustache) and Nathan Lane (in linen pants and the occasional wig) as Armand and Albert Goldman. The couple run the The Birdcage, a drag club in South Beach where Albert (as "Starina") is its greatest star. When Armand's son Val (Dan Futterman) informs him that he's going to  marry his girlfriend Barbara (Calista Flockhart) he caveats the good news with a request: might he go along with the white lie Barbara told her ultra-conservative parents, Senator Kevin Keeley (Gene Hackman) and his wife Louise (Dianne Wiest), that Armand is a straight cultural attaché?
(Photo by MGM Home Entertainment / Everett Collection)
The comedy stems from the failed attempts at keeping the charade of a heterosexual (and heteronormative) Goldman family. If Albert cannot present himself to the Keeleys as Armand's partner, by god he'll do it as Val's definitely-not-gay uncle, a scenario that gives Lane every delicious comic beat he could ever hope to play. In one of the scenes that I could probably still perform from memory, Albert tries to butch himself up. He practices spreading some mustard on some toast only to be scolded by his frustrated lover: "Don't use the spoon! And don't dribble little dots of mustard: men smear! Smear!"
The film was a staple of my teenage years. Whenever it was on cable we'd watch it as a family. We'd laugh in unison as we saw Lane's flailing attempts to walk straight, only to end up deciding to pass himself off as Val's mother in surprisingly convincing Old Lady drag. My laughter was, during those family viewings, comforting and discomfiting in equal measure. I laughed at Lane's femininity in a way that I hoped inoculated my own. What a laughable stereotype, I thought. Thank god I'm not that gay, I reassured myself, still in the closet. I may be called a 'marica' in school, but surely I pass more easily than this out-of-drag drag queen. I loved the film precisely because it gave me room for such distance.
(Photo by MGM Home Entertainment / Getty Collection)
By the time I got to college, that kind of thinking led me to a revisionist understanding of the film that felt all the more insidious: it's films like these – big broad comedies trafficking in caricature – that fuel the homophobia around me. Couldn't we do better? Couldn't we be more than punchlines? Did we have to be effeminate gay men with high-pitched voices who couldn't hold their pinkies in check when "smearing" our toast?
It's only slowly dawned on me how much I came to project onto The Birdcage which, Hank Azaria's lisping "Guatemalanness" aside, is a wholly assured satire about homophobia and masculinity. Nichols walks a fine line between finding Val's request and the subsequent comedy of errors it precipitates as preposterous and hilarious, insulting and entertaining. And while Albert may look like a fey stooge, it is his sensibility which runs through the film; it's his drag which saves the day and reveals the Keeleys' (and Val's) hang-ups as utterly laughable. In its campy theatrics, The Birdcage encourages us all to be more like Albert, to see in his gay femininity a kind of strength we all too often mock and disparage. Sometimes even within ourselves.
Manuel Betancourt is a culture writer and film critic interested in all things queer and Latinx. www.mbetancourt.com
Like this? Subscribe to our newsletter and get more features, news, and guides in your inbox every week.
#1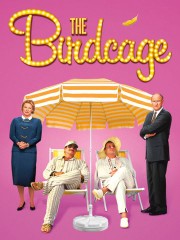 Critics Consensus:
Mike Nichols wrangles agreeably amusing performances from Robin Williams and Nathan Lane in this fun, if not quite essential, remake of the French comedy La Cage aux Folles.
Synopsis:
In this remake of the classic French farce "La Cage aux Folles," engaged couple Val Goldman (Dan Futterman) and Barbara...
[More]