Before he was Luke Skywalker, Mark Hamill was dreaming of Jeannie in the animated take on the classic sitcom, simply named Jeannie, which Hanna-Barbera produced and which aired briefly towards the end of 1973. It was short-lived, but it kicked off a long love of voice acting work, which would flourish in the 1990s and the decades following when he landed the role of the Joker in Batman: The Animated Series. For the Comic-Con crowd, the role would define him almost as much as his work in the Star Wars franchise; like Jack Nicholson and Heath Ledger, he put his on stamp on the character, which he calls the Hamlet of villain roles for a comic fan. As Hamill prepares to put his spin on another iconic villain – the murderous doll, Chucky, in director Lars Klevberg's reboot of Child's Play – Rotten Tomatoes sat down with the actor for an exclusive and extended deep dive on his voice work. Here, he talks about finding the Joker's laugh, and molding the character to different stories (from The Killing Joke to the Arkham Asylum video game); dubbing two classic Miyazaki films; his prediction that Avatar: The Last Airbender was simply too smart, and too good, to succeed; and how his new Chucky differs from Brad Dourif's beloved take on the character.
Child's Play is in theaters June 21.
---
Like this? Subscribe to our newsletter and get more features, news, and guides in your inbox every week.
#1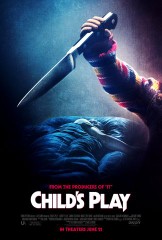 Critics Consensus:
Child's Play
updates an '80s horror icon for the Internet of Things era, with predictably gruesome -- and generally entertaining -- results.
Synopsis:
After moving to a new city, young Andy Barclay receives a special present from his mother -- a seemingly innocent...
[More]