The release of Dark Phoenix marks the fourth time that James McAvoy and Michael Fassbender will play Charles Xavier and Erik Lehnsherr in the X-Men series. Over the course of nearly a decade – the actors first assumed the roles in 2011's X-Men: First Class – the duo have put their own stamp on the characters and, with their commitment and chemistry, provided moviegoers with one of the most compelling protagonist-antagonist relationships we've seen on the big screen, as well as one of the most complex and enduring friendships. With Dark Phoenix likely marking the last time they will play the characters, we sat down for an extended interview with McAvoy and Fassbender to talk about how their characters have changed, the legacy of the their Professor X and Magneto, what they drew from Patrick Stewart and Ian McKellen, and how they feel about all that "Cherik" business.
---
Playing Erik and Charles for Eight Years and Four Films
Michael Fassbender: It's been an honor and a privilege to play him and also to be able to see him in different incarnations through his life, but I guess the biggest treat was to be able to play him in an episode where both our characters met. That was cool. And to see how Erik becomes Magneto with the help of Charles and vice versa.
James McAvoy: He's a guy who we've been lucky enough, like Michael was even saying, to take on a big journey, over four films, from a kind of self-interested, small worldview student and who likes using his tricks to get ladies to this guy who's like totally entitled and not got any problems in life… meets him, meets his best friend that he'll ever have, and this guy Erik, Magneto, sort of changes him forever and gives him a hell of a lot of pain and angst and anxiety and trauma that he never had until he met him. And so doing, he kind of helps create Professor X, and then we get to watch him go through the mill in Days of Future Past, where he doesn't believe the thing that he's always believed, the thing that defines him really – that he believes there is good in everyone, there is always hope. He loses that, and he has to find it again in Days of Future Past. And then, in Apocalypse, we see him as this sort of guidance counselor, teacher type figure. And then to this film, where we get to see him as a politician with a huge geopolitical platform where he's trying to sell the message of integration, which is a great message. But I think he has sort of taken his eye off the ball, and he's not really applying that attention and that love and that hope, which has always defined him, at home. He's out there just trying to become the next president of the world, it seems.
(Photo by © Twentieth Century Fox)
---
What Draws The Two Men To Each Other
McAvoy: I think Charles is always looking for somebody who's damaged. I think it appealed to his sense of his messiah complex or his god complex. It certainly appealed to his ego in some way, his vanity in some way. But I think he surrounds himself with people who need his help. One of the things that appeals to him in the relationship is that he was able to help [Erik]; he was able to sort of give you something, and as much as that is generous and nice, lets Charles be in a position in his mind, which is sort of in charge or have some kind of moral authority even. It's not until the last movie where I think Charles realizes it has just been such a fallacy all his life that he had any kind of moral authority just because he was able to help anybody. We find these two at the end of this film in a very different, switched-up relationship, isn't it? Where I think, if we ever went forward, it would be Erik helping Charles more than anything else.
Fassbender: I think what drew me to this saga originally was the fact that it was born out of the civil rights era. We've always looked at these two characters as like a Malcolm X being Erik and Martin Luther King Jr. for Charles. And the fact that both of these characters want a better future for their people, they just have very different ideologies about how to get that. Charles believes in integration, and Erik believes in protecting their own, looking after themselves. And if segregating themselves from humans is the best way to protect themselves, then so be it, and if it means going to war with them, then, you know, so be it as well. And I think the relationship is interdependent. I don't know if you guys have two rival football teams that live in the same city, maybe. I mean, this is Celtic and Rangers.
(Photo by © Twentieth Century Fox)
---
First Working Together, Before X-Men
McAvoy: We worked together the first time in year 2000 – 19 years ago? Yeah. I came on board like five months in to an HBO series called Band of Brothers, and you'd been on it from the beginning, right?
Fassbender: We didn't actually have too much to do in the episode. But, you know, I noticed you because that was your episode really. It kind of followed your story. So I was impressed by James' acting and the way he held himself, a bit of a sort of a spring to his step. And then I saw him in this series called Shameless, which came over here now, actually you've got an American Shameless. And I was like, this guy's good. You know, he's got something.
McAvoy: I remember him from Band of Brothers. I always thought he was American because his accent was so good. I always remember you being quite graceful, quite classy in amongst what was a pretty animalistic dressing room. There was a lot of men.
Fassbender: Lots of testosterone.
---
Charles and Erik's Darkest Moments 
Fassbender: Dark moments? I guess, obviously, when I paralyzed you. You know, that was a pretty… tragic moment.
MacAvoy: I'd say like the most weirdly mundane and yet most upsetting moment for Charles is in this film when [Erik] goes, "Oh shut up. There's always a speech." And it's just like, awwww. That's like you've hurt me the way that only your wife or your husband can. That is strangely actually the most cutting moment for Charles. Or for me as an actor. Sort of realized that I've been saying the same thing for four movies. With different haircuts.
Fassbender: Sometimes no hair at all.
---
Charles and Erik's Finest Moments 
Fassbender: Well, he saved my life, so thank you for that.
McAvoy: That is a nice moment, where, I don't know exactly what you said, but you do say something along the lines of, "I thought I was alone. I thought I was the only one." And I say something like, "You'll never be alone again," or like, or just, "I love you." Or something like it. That was a really beautiful moment. There was a lot of moments in First Class that were like the height, the peak of, sort of, buddiness. Like when you move the radio antenna, it's a pretty euphoric moment, I seem to remember.
(Photo by © Twentieth Century Fox)
---
Drawing Inspiration from Ian McKellen and Patrick Stewart
Fassbender: Well, I didn't bother doing Ian's voice in the first one, which I had to adjust for the second one because he's in the movie with me. I remember I had the conversation with Matthew Vaughn on First Class… I was like, "Okay. Should I do Ian McKellen's voice? Should I bring that in?" And he was like, "No. Your voice is kind of weird, so let's go with that." And I thought, "OK."
McAvoy: I liked what you brought too, because it was a kind of Irish version of something like Sean Connery as Bond. And you were this sort of international man of mystery then, and I was a spy kind of figure. In First Class, you could hear Irish all through your voice, but there was just the edge off it a little bit, so you got a sense of background and a sense of history at the same time as being this enigmatic guy. I thought it was really important if we're going to go back and do a prequel, or any origin kind of story, it was important to show that those origins were in a very different place from their destination. Otherwise, what's the point in going back if somebody's just the same as they were 40 years later? Like, maybe they don't deserve their own story. So it was important to take the elements that Patrick portrayed so brilliantly, like his selflessness, his empathy, his sort of Zen-like quality, his sort of wise nature. And then do the opposite of all of those things. Make him a little bit selfish; make him a little bit flippant; make him vain; make him boisterous. Make him all these things, and then over the course of four movies, you realize that your final destination is much more in a similar place to what Patrick was doing, but try to get there in an interesting and rewarding way and not just like, doing it on the second film.
---
(Photo by © Twentieth Century Fox)
---
The Villain that Tested Them the Most
Fassbender: Apocalypse. I mean, I was always, personally, like, does Eric really have to follow this guy? It definitely went against the grain for me, I've got to say. But it was Oscar [Isaac], so that was the bit that I was like, OK, well, I would follow Oscar.
McAvoy: Yeah. He's a great peer. He's a great fellow Shmactor. But, yeah. Maybe him. I'm not sure actually. Trask, maybe? Because I felt like I got to a place of trust with you again, you know? A place where I thought we could be together again… and then you go and drop a stadium on the White House.
---
The Evolution of their Relationship
McAvoy: I don't feel like it's that different [now]. Do you know what? We had more to do together in First Class and Days of Future Past, less so in Days of Future Past, but we had more to do with each other in every film in the past; Apocalypse there was less to do. Until finally, we find ourselves in this movie saying like three words to each other. So that's how it's changed massively; we don't get to do it. I think it's a great travesty, and one of the great missed opportunities of this incarnation of the X-Men saga.
Fassbender: Agreed. We do get to play a game of chess in this last one.
McAvoy: We do. We do.
Fassbender: We come full circle.
(Photo by © Twentieth Century Fox)
---
Reflecting on Each Other's Performance
McAvoy: My favorite performance of his in [the X-Men films] is definitely First Class because I think that was really, truly, actually a great film balancing an ensemble and giving everybody an arc and stuff, but in terms of who that film is really about, that was the origin story for Magneto in essence. And just getting to see him rock this… not just mutant leader figure, which he wasn't yet, but actually imbue it with a sort of James Bond, espionage, spy-like quality as well. That was just a wicked thing to do with your character.
Fassbender: I would say Days of Future Past. Because you really go through the ringer in that one. And just in general, something with James, which is pretty impressive to see, is like, he's got a really good understanding of storytelling, like where the character is in the journey of the character and where it should end up at the end. Just that sort of awareness of a character journey. So much so that what we see in this last film – the germ of it was there in First Class, which was this idea that you had we've always seen Professor X in such a positive light. He's always so giving and generous, and you were like, well, there's a flip side to that, you know. That there was an element of his ego that was there and to be explored, and of course, we see the whole effect of it here in this movie. So that's been cool to watch over four movies. That's impressive.
---
Team Magneto or Team Professor X?
McAvoy: There's a great line in Braveheart from the late actor, great actor, Ian Bannen, who said to Robert the Bruce when he's trying to caution him and say, don't go off and fight with William Wallace, right, even though it's the right thing to do, don't go and do it. He says, "It's really easy to like him, isn't it? Because uncompromising men are easy to like." And it's true. Erik's so uncompromising, you're drawn to him. But also, he's always right as well. Humanity is going to stab us in the back, he says. And they do. They always do. So, I think I would go with Erik.
Fassbender: I think I'm going to go with Charles just because I think in order to move forward, you have to integrate. Because of that alone, I would have to stick with his ideology.
(Photo by © Twentieth Century Fox)
---
ON "CHERIK" – THE FAN-FICTION LOVE AFFAIR BETWEEN CHARLES AND ERIK
McAvoy: I feel like it might have been due to the "Cherik" shipping that after First Class, they restricted the amount of time we spend on screen together because they realized it was going to cause a lot of problems in certain parts of the world.
Fassbender: You know, I think I know where it all started. Remember when we were storming that building in Russia, and we were laying in the long grass just chatting. It was like a scene in Out of Africa or something.
McAvoy: Oh, in between takes.
Fassbender: Yeah. And that's where, I think, it all started.
---
Making Cherik a "Throuple" – with an MCU Hero or One of the X-Men
Fassbender: [After understanding the "throuple" question] I'm going to go Sophie [Turner}, Jean Grey. Because she's the most powerful mutant out there. Well like, you know, if we're going to have a team, we're solid.
James: I would definitely want to go with somebody who's a psychic because I think we could have some crazy, mind-bending fun. And so that would either be Jean Grey or Emma Frost.
Fassbender: Sticking within our group. Mutants stick together.
---
Dark Phoenix is in theaters now.
---
Like this? Subscribe to our newsletter and get more features, news, and guides in your inbox every week.
#1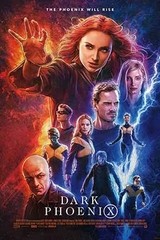 Critics Consensus:
Dark Phoenix
ends an era of the
X-Men
franchise by taking a second stab at adapting a classic comics arc -- with deeply disappointing results.
Synopsis:
The X-Men face their most formidable and powerful foe when one of their own, Jean Grey, starts to spiral out...
[More]