Cinematographer Roger Deakins is a household name among film buffs. He's the genius behind the look and feel of landmark films like The Shawshank Redemption, The Assassination of Jesse James By the Coward Robert Ford, and Blade Runner 2049. His long-running relationship with the Coen Bros. has seen him create unforgettable imagery in Fargo, O Brother, Where Art Thou?, and more, and he has worked with Sam Mendes on Skyfall and Jarhead. This year, Deakins takes on his most ambitious project yet, Mendes' 1917, an action-packed WWI thriller composed of long, elaborately choreographed segments edited together to give the story the feel of a single, unbroken shot. Ahead of the movie's release, Rotten Tomatoes sat down with Deakins to break down how he tackled the challenge of 1917's "single shot," as well as to walk us through some of the toughest assignments of his career, from Skyfall's epic fire to his Oscar-winning work on Blade Runner 2049. 
1917 is in theaters December 25, 2019. 
#1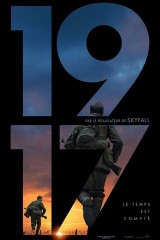 Critics Consensus:
Hard-hitting, immersive, and an impressive technical achievement,
1917
captures the trench warfare of World War I with raw, startling immediacy.
Synopsis:
During World War I, two British soldiers -- Lance Cpl. Schofield and Lance Cpl. Blake -- receive seemingly impossible orders....
[More]
---
Like this? Subscribe to our newsletter and get more features, news, and guides in your inbox every week.