This week at the movies, we've got a murder mystery (Knives Out, starring Daniel Craig and Jamie Lee Curtis, and a ton of other stars) and a couple on the run (Queen & Slim, starring Daniel Kaluuya and Jodie Turner-Smith). What are the critics saying?
---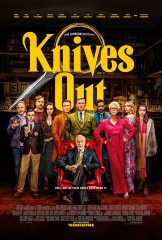 Before writer-director Rian Johnson was handed the reins to Star Wars: Episode VIII (and a potential new trilogy of his own), he cut his teeth on low- to mid-budget capers and thrillers like Brick, The Brothers Bloom, and Looper. With this week's Knives Out, Johnson returns to his roots with an old-fashioned murder mystery, and critics say it's a blast. The story revolves around the murder of Harlan Thrombey (Christopher Plummer), who invited his large family to celebrate his 85th birthday at his sprawling estate, only to end up dead the next morning. Enter detective Benoit Blanc (Daniel Craig), who quickly sets about sussing out which of the family members may or may not have been involved with the crime, and why. Critics say Johnson, working squarely within his wheelhouse here, expertly teases out the tension and utilizes familiar genre tropes in clever ways, and he's aided by a stellar cast who clearly enjoy each other's company. That cast, by the way? It includes Chris Evans, Toni Collette, Jamie Lee Curtis, Michael Shannon, Ana de Armas, Don Johnson, and LaKeith Stanfield, just to name a few. It's a classic whodunit with a modern twist, a dark sense of humor, and some fantastic performances, and what better way is there to spend Thanksgiving weekend than to watch a movie about a family at each other's throats?
---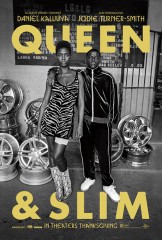 Like many who have come before her, director Melina Matsoukas began her career behind the camera in the music world, crafting award-winning videos for the likes of Beyoncé, Ne-Yo, Lady Gaga, and Katy Perry, before she went on to helm episodes of critically acclaimed TV series Insecure and Master of None. It was on the latter that she first worked alongside Lena Waithe, most notably on a pivotal Thanksgiving episode centered on Waithe's character, Denise. The two of them reunite for this week's Queen & Slim, Matsoukas' feature directorial debut and Waithe's feature writing debut, and critics are calling their new collaboration a success. Daniel Kaluuya and Jodie Turner-Smith star as the titular duo, a young Black couple on a first date who are pulled over by a cop presumably for a routine traffic stop. The situation escalates quickly and erupts into violence, and when the cop ends up dead, Queen and Slim flee the scene and become heralded as a modern-day Bonnie and Clyde when video of the incident goes viral. Critics say Queen & Slim is a provocative examination of timely issues that tackles its potentially thorny themes thoughtfully, but also roots them in a gripping drama bolstered by powerful performances from its two leads. It may not necessarily be an ideal post-turkey pick-me-up, but it should be rewarding to viewers willing to engage with it.
---
Also Opening This Week In Limited Release
---
Like this? Subscribe to our newsletter and get more features, news, and guides in your inbox every week.