(Photo by Rico Torres/©Columbia Pictures courtesy Everett Collection)
When Robert Rodriguez burst onto the independent movie scene at the Sundance Film Festival with his scrappy low-budget genre debut El Mariachi, he instantly made a name for himself. Touting his film's extraordinarily small budget of $7,000 –– raised mostly from the director subjecting himself to medical testing –– Rodriguez established himself as a resourceful filmmaker, detailing his process in his book Rebel Without a Crew, now considered a film school classic. If El Mariachi proved what Rodriguez could do with a meager budget and a cast of mostly friends, what more could he accomplish if he had fancy pyrotechnics, large sets, and professional actors?
The answer was Desperado, a better-funded follow-up to El Mariachi that built on the mythology of a mysterious guitar player with a music case full of guns and ammunition. It was a big step up from his previous four-figure budget: Desperado cost around $7 million, or 1,000 times more than the cost of his first feature. Fortunately, audiences flocked to Desperado and helped establish Rodriguez as an exciting new filmmaker with ideas for offbeat movies like the Spy Kids series, a love of genre that influenced films like From Dusk Till Dawn and Machete, and an eye for action that shaped movies like Sin City and Alita: Battle Angel.
Although Desperado met with mixed reviews on its release 25 years ago on August 25, 1995, there's still a lot to enjoy from Rodriguez's sophomore effort. It's a movie that promises explosion-laden spectacle, choreographed gun battles, visual humor, and Antonio Banderas playing guitar — and it delivers on all fronts.
---
It Shows Off Robert Rodriguez's Playful Style
(Photo by Columbia Pictures courtesy Everett Collection)
Whether it's a deadly gunfight that ends in a tense draw over empty pistols, or a throwaway gag that forces the movie's heroine to wear two mismatching heels through its explosive climax, Rodriguez, who both wrote and directed the film, has an eye for visual humor. Desperado never takes itself too seriously despite all of its violence and explosions, as Rodriguez incorporates punchlines in both subtle and overt ways. Sometimes, the effect is achieved with a simple sign that reads "Members and Non Members Only." Other times, it's as obvious as a ceiling fan that continues to smack a dead bad guy in the face after he's down; only when El Mariachi (Banderas) shoots the fan does it actually stop.
Another aspect of Rodriguez's visual style is his unabashed love of spilling fake blood. A handful of deaths occur off-screen, announced by splatters of bright red that splash across other characters —  a tip of the hat to '70s horror and spaghetti western classics that, in their time, used shocking amounts of gore to thrill audiences. Sometimes, though, blood is used more subtly, as when a wounded El Mariachi leans on a wall and leaves a crimson trail behind him as he brushes against it. It shows the audience he's wounded, still mortal even though it seems no one can kill him, and in the next scene, still capable of fighting back faster than any unfortunate soul who tries to pull a gun on him. Whether it's the tint of fake blood, the rouge undertones of certain buildings, or the burning intensity of an explosion, the color red plays an important role in the look of Desperado.
---
It Introduced Salma Hayek to a Broader Audience
Prior to her role as Carolina, the badass bookshop owner-turned-love interest of El Mariachi, Salma Hayek was mostly known for her work on television and a few movie roles, including one in Allison Anders' Mi Vida Loca. Anders would work alongside Rodriguez on Four Rooms, which came out the same year as Desperado, but for the most part, Hayek's star was still on the rise when she went toe-to-toe with the much more established Banderas. She thrives in the role, bringing sympathy to a character caught in the crossfire of a war that has nothing to do with her. Hayek portrays Carolina as a business woman willing to do whatever it takes to keep her struggling shop afloat, capable enough to throw off the suspicions of drug lord Bucho (Joaquim de Almeida), and smart and courageous enough to save the hero's life by surgically removing a bullet and suturing his wound. Plus, who can forget the iconic shot of Hayek and Banderas coolly walking away from a giant fireball?
---
It Turned Antonio Banderas into an Action Star
Banderas exudes star power and charisma from the moment he walks on-screen. While it may be most evident in the aforementioned slow-mo walk away from the explosion with Hayek, his unshakable bravado is present in almost every frame. Stepping out of the shadows for his first bar fight, he makes an imposing impression from the get-go, yet one that changes as the audience learns more about him. He's not a cold-blooded killer like his enemies, as he looks after a guitar-carrying kid caught in the town's drug trade. He's capable of being vulnerable, funny, and flirty with Carolina, quickly initiating a romance just hours after they meet. And in the face of danger, he's an impossible and unstoppable force, with Banderas (and his stunt team) quickly moving through the paces of intense fight choreography like pros. At the time, Banderas was perhaps best known to U.S. viewers for his roles as a love interest in movies like Philadelphia and Interview with the Vampire, but Desperado helped Banderas step out into a new light, one that later led him to make movies like The Mask of Zorro (and its sequel), The 13th Warrior, the Spy Kids franchise, Haywire, and The Expendables 3,  among others. Both Banderas and Hayek would also reprise their roles in 2003's Once Upon a Time in Mexico.
---
The Cast Is Full of Faces You'll Recognize
Desperado features a number of cameos, like Steve Buscemi, who introduces the legend of El Mariachi to a bar full of nervous listeners. Another face you may recognize is Quentin Tarantino's as a loudmouthed delivery man who meets a gruesome end. With a shared love of exploitation B-movies, Rodriguez and Tarantino would later work together on an ambitious double feature, Grindhouse, as an homage to the era and contribute shorts to Four Rooms with Anders. A number of soon-to-be Rodriguez regulars also trace their collaborations back to Desperado, including Cheech Marin, who would go on to play Uncle Felix in Rodriguez's Spy Kids, and a short-haired Danny Trejo, whose appearance in Desperado as a deadly, knife-wielding assassin seems to be the basis for his evolution into his most famous character, Machete. Carlos Gallardo, the original El Mariachi from Rodriguez's debut, also appears as one of the other musicians with a case full of weapons in time for a big showdown.
---
Los Lobos Delivers an Award-Winning Soundtrack
(Photo by Everett Collection)
Back in the late '80s and early '90s, the Chicano rock band Los Lobos was one of the most famous Spanish-language groups to break into the mainstream. Fashioning a sound that melded rock and blues with traditional Mexican music like cumbia and norteño, Los Lobos was fresh, unique, and exciting. Their chart-topping 1987 cover of Ritchie Valens' "La Bamba" for the movie of the same name put them on airwaves across the world, and when it came time for Rodriguez to pick the music to accompany his gun-toting musician on his quest for vengeance, there was no better choice.
Los Lobos added guitar-fueled segues that propel the action forward, making every fight scene feel more epic in scope, and rooting the story in a Mexican-American soundscape, bringing to life the sounds of a border town where American tourists dip into sketchy dive bars run by a cartel. In an early scene, Banderas performs Los Lobos' "Mariachi Suite," which sets up his character's story and who he's going to face off against in the movie. That song later won a Grammy for Best Pop Instrumental Performance, and it's just one of the multiple ingredients that made Desperado such an enduring cult classic.
---
Desperado was released in U.S. theaters on August 25, 1995. It is available to rent or buy on FandangoNOW, Vudu, Amazon, Google Play, and iTunes. 
#1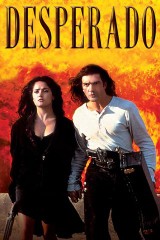 Critics Consensus:
Desperado
contains almost too much action and too little story to sustain interest, but Antonio Banderas proves a charismatic lead in Robert Rodriguez's inventive extravaganza.
Synopsis:
Mariachi (Antonio Banderas) plunges headfirst into the dark border underworld when he follows a trail of blood to the last...
[More]