(Photo by © Warner Bros. / courtesy Everett Collection)
When Ben Affleck first burst onto most moviegoers' radars alongside childhood best friend Matt Damon in Good Will Hunting – and collected a screenplay Oscar for his efforts – he seemed destined for a venerable acting career. Damon may have been the hit movie's lead, but Affleck pulled focus in fascinating ways. Next to Robin Williams' conversation by the pond, and the famous "it's not your fault scene," Affleck  delivered one of the film's most affecting moments when his character – a construction worker – rebuked Will for not maximizing his potential as a mathematician. The then 25-year-old's ability to move people, and his offbeat and mysterious charisma, had many critics predicting a bright future in prestige projects with a regular awards-season presence. He was going to be more DiCaprio than Stallone.
And then something happened.
From 1998 to 2006, studios attempted to fashion Ben Affleck into a prototypical leading man and his career went a decidedly different way than many had foreseen. First, he went the American hero route in Michael Bay's jingoistic disaster movie Armageddon, and was largely accused of overacting as Liv Tyler's love interest. Then came Force of Nature opposite Sandra Bullock, Reindeer Games with Charlize Theron, the lover's triangle of Pearl Harbor, and a failed first run at superhero glory in Daredevil. There were bright spots – among them Shakespeare in Love and Changing Lanes – but they were the exceptions. In 2003, his turn in one of the worst films ever made, Gigli, and the next year's sentimental Jersey Girl, had many forgetting what they originally saw in the promising young actor. 
(Photo by © Columbia/courtesy Everett Collection)
Though Affleck is now lauded as an award-winning filmmaker, his stretch of questionable heartthrob and action-hero film roles during the early aughts instilled the widely held perception that he was a terrible actor. Forbes declared him Hollywood's biggest disappointment; others said he should stay behind the camera for good. But lately, with acclaimed turns in films like The Way Back, Affleck is reminding critics and audiences of the promise he showed early in his career, and his singular ability to portray forlorn and damaged characters seeking redemption. For those who've watched his career closely, though, there has always been great work. It's about time we reconsider Affleck's acting ability and recognize him as one of his generation's great performers. 
Following Daredevil and other public failures, it was another superhero role of sorts that showed us again what Affleck was capable of. In 2006, the actor sharply shifted gears when he played former Superman George Reeves in Allen Coulter's tragic biopic Hollywoodland. Here, Affleck played an actor trapped by the limited perceptions of his talent – a subject which presumably felt near to Affleck at the time. Reeves comes to hate the fame Superman brought to him, and turns to wrestling in the vain hope of revitalizing his career. The movie closes with a visceral sequence in which Reeves commits suicide with a Luger pistol. We watch as Affleck despondently stares into the distance as a tear grips his cheek; upon a close-up, he slightly turns his head, and the anger and hollowness of the man play vividly in his eyes. Few actors evoke the catastrophe of the soul as well as Affleck does here.
(Photo by ©Warner Bros. Pictures/Courtesy Everett Collection)
After the triumph of Gone Baby Gone, his first film as director, Affleck leaned into portraying miserably flawed men. In the taut political thriller State of Play, he's a Congressman implicated in the death of his lover; in the exhilarating crime caper, The Town, which he also directed, his character severs himself from the love of his life after a botched robbery; in The Company Men, he explores corporate America's apathy toward the middle-class worker. And though he plays the hero in the Oscar-winning Argo – a CIA specialist extracting American citizens from Iran during the hostage crisis – his character's family life is fractured. Affleck's Tony Mendez loves his son, but so often misses the most important events in his life; when he tells Lester Siegel (Alan Arkin) he has a child, his voice cracks with regret. In these roles, Affleck rarely gets the girl, but he always claims the heartache. 
Affleck's most fantastically flawed and fascinating creation came in David Fincher's unnerving thriller Gone Girl. An anti-romantic lead performance, Nick Dunne is neither suave nor appealing. Instead, the role turned the tables on everything studios wanted the actor to be during the late 1990s and early 2000s – America's heartthrob – by transforming him into the disturbing and philandering husband accused of murdering his wife, Amy (Rosamund Pike). 
(Photo by Merrick Morton/TM and ©Twentieth Century Fox Film Corporation. All rights reserved./Courtesy Everett Collection)
While Pike rightfully earned a Best Actress Oscar nomination for her turn as the psychotic Amy, and the film was lauded for its skillful direction and shock twists, Gone Girl's most memorable scene – and its iconic image – centers on a subtle acting moment from Affleck: The actor simply standing, feigning a smile while posing with the missing person's poster of his wife. Dressed in a rumpled shirt and clearly exhausted, his half-hearted grin intimates both guilt and foolishness at once, a feeling that carries through his whole performance. When Nick goes on a talk show to apologize to Amy, hoping to coax her out of hiding through contrition, Affleck plays his remorse as perfectly canned, and when the blood-stained Amy returns home, his look of awestruck misery zings. 
And then, of course, came Batfleck. With Robert Pattinson now cast as Batman, there's a keenness from some to forget Affleck's caped crusader. Many fans are hoping Pattinson, following his psychologically violent roles in indie flicks like Good Time and The Lighthouse, will deliver some damaged goods and help them erase the memories of Affleck's Dark Knight and the movies in which he featured. But many fail to remember the promise the actor showed when first cast by Zack Snyder – and why he was, in many ways, so perfectly cast. 
(Photo by © Warner Bros. / Courtesy Everett Collection)
The Batman in Batman v Superman: Dawn of Justice, a haunted loner born from the tragic milieu of Gotham, encompassed many of what audiences had seen in Affleck's prior career highlights. Hollywood's onetime golden boy, driven by failure toward darker material, fit perfectly into the older and more jaded mold Snyder crafted. Moreover, Affleck's past as a romantic leading man, though spotty in quality, informed the belief he could adeptly capture the billionaire playboy persona of Bruce Wayne. And he largely succeeded in the role, ultimately, bringing the hardened edges grief provides, though his performance languished under a flawed script. 
This year, Affleck channeled a career's worth of demons and struggles into Jack Cunningham, the basketball coach at the center of Gavin O'Connor's Certified Fresh dark sports drama, The Way Back. Though Jack's an alcoholic father, still reeling from the collapse of his marriage and the death of his adolescent son from cancer, he's recruited by his former Catholic high school to coach a now-crestfallen team. The onetime basketball star, now a construction worker, reluctantly grapples with his addictions for a chance at redemption. 
(Photo by © Warner Bros. / courtesy Everett Collection)
The role resonated with much of what we know about Affleck's personal life, and it gave him great freedom, too. In Dawn of Justice, when he leaned into Wayne's tragic past and infamously screamed "Martha," he was lampooned; as Coach Cunningham, Affleck had the independence to sketch those shades of grief and regret differently. Whether attending a triggering birthday party for his son's best friend, or later during his drunken spell through a quiet neighborhood, he heartbreakingly portrays the destructive depths of grief and addiction. Critics and audiences took notice: Slashfilm's Hoai-Tran Bui described Affleck's performance as "tremendous" and "raw," while Christy Lemire described his portrayal as "the best work" he had done. The Way Back has even garnered the actor some quiet Oscar buzz.
The film's success is fitting considering Cunningham, a construction worker, is a mirror of what Affleck's character in Good Will Hunting might have become after Will left: a working stiff punching the time clock of life without the steady guidance of his friend. By looking toward the past, in concert with his past triumphs, Affleck proves both then and now his generationally great talent. 
---
The Way Back is available to rent or buy on FandangoNOW, Vudu, Google Play, and Amazon Prime.
#1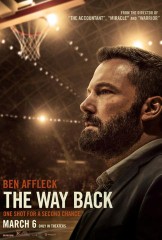 Critics Consensus:
The Way Back
's occasionally frustrating treatment of a formulaic story is often outweighed by Ben Affleck's outstanding work in the central role.
Synopsis:
Jack Cunningham was a high school basketball superstar who suddenly walked away from the game for unknown reasons. Years later,...
[More]