This week at the movies, we welcome the return of Marvel's spacefaring misfits (Guardians of the Galaxy Vol. 2, starring Chris Pratt and Zoe Saldana) and herald the arrival of a long list of limited releases. What are the critics saying?
---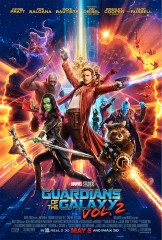 A talking raccoon, a giant sentient tree, a couple of green people, and that one guy from
Parks and Recreation
. Before the first
Guardians of the Galaxy
 strode into theaters and whooped blockbuster butt, more than a few people thought it might mark the end of the Marvel Cinematic Universe's incredible box office streak; many hundreds of millions of dollars later, we're ready to turn out for
Guardians of the Galaxy Vol. 2
, which reunites our lovable gang of scrappy galactic do-gooders for another round of space adventures — and no one's predicting anything but success. Of course, it's hard for anything to feel quite as fresh the second time around, and critics say diminishing returns are definitely an issue with
Guardians
' second installment; while the vast majority of reviews have been positive, a number have also pointed out that the franchise's rapid-fire humor and thrilling visual spectacle don't stick the landing quite as often, and it doesn't help that the story keeps our heroes apart for an extended stretch. Still, it all adds up to a couple hours of colorful fun — and if that doesn't describe what a comic book movie oughta be, what does?
---
Also Opening This Week In Limited Release