This week at the movies, we've got an ice queen (Frozen II, featuring the voices of Kristen Bell and Idina Menzel), a nice guy (A Beautiful Day in the Neighborhood, starring Tom Hanks and Matthew Rhys), and a desperate cop (21 Bridges, starring Chadwick Boseman and Sienna Miller). What are the critics saying?
---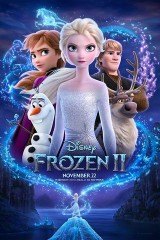 Disney had a massive hit with Frozen back in 2013, earning over $1.2 billion at the global box office and searing the words "let it go" into the public consciousness, so they naturally decided to capitalize on its success with a sequel. Frozen II reunites the original voice cast in a new adventure, as ice queen Elsa (voiced by Idina Menzel) begins to hear a mysterious call coming from an enchanted forest to the north. She embarks on a journey to discover its source with Anna (Kristen Bell), Kristoff (Jonathan Groff), snowman Olaf (Josh Gad), and reindeer pal Sven in tow, only for secrets from her family's past to resurface and threaten the peace they've established. Critics say Frozen II holds few surprises and doesn't quite manage to conjure up the same magic as its predecessor, but it's still a gorgeously animated (of course) tale that tackles some important themes and delivers enough thrills to make it a worthwhile return trip to Arendelle.
---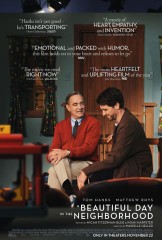 You'd be forgiven for thinking A Beautiful Day in the Neighborhood was a biopic of American children's television icon Fred Rogers, especially considering an acclaimed documentary about the man was released just last year and Tom Hanks, who plays him in the new film, is plastered across all of the marketing. Directed by Marielle Heller (Can You Ever Forgive Me?), the based-on-true-events story actually follows the account of journalist Tom Junod, who was assigned to profile Rogers for Esquire magazine and ended up forging a close friendship with him. Matthew Rhys plays a stand-in for Junod named Lloyd Vogel, a cynical writer who approaches the interview with the intent of rooting out a flaw and publishing a juicy exposé. Instead, Rogers gets Vogel to open up about his troubled past, and the two come to a mutual understanding as Vogel's mistrust melts away. Critics say A Beautiful Day in the Neighborhood is, as expected, powerful and moving in its portrait of Fred Rogers, but it's also clever in the way it filters the larger-than-life icon through the eyes of a skeptic. Tom Hanks is appropriately charming, and Matthew Rhys is equally effective as the man whose walls gradually come down, and Marielle Heller's direction offers just enough surprises to ensure the emotional charge of the film feels more authentically sweet than cloying. Just make sure to bring the tissues for this one.
---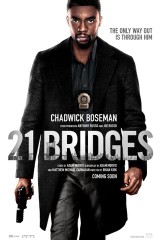 If you're in the mood for something decidedly less feel-good this weekend than animated Disney royalty and the nicest man on television, Chadwick Boseman has you covered. In 21 Bridges, he plays Andre Davis, a brooding, trigger-happy NYPD detective with a reputation for gunning down perps rather than bringing them in. When a drug deal goes horribly sideways, resulting in the deaths of several police officers, Andre is tasked with locating the cop-killers precisely because he is expected to put them down for good. Partnered with a narcotics officer (Sienna Miller), Andre arranges for all 21 bridges leading in and out of Manhattan to be closed, and the pair set about tracking their targets. Critics say that while the cast of 21 Bridges is top notch — J.K. Simmons, Keith David, Taylor Kitsch, and Stephan James play supporting roles — their work is in service of a predictable, run-of-the-mill thriller that isn't particularly inventive or surprising in its storytelling, even if it's competently put together in a technical sense. There are worse movies of its kind around, to be sure, but if you've seen any number of others like it, you're liable to see the twists coming far in advance.
---
Also Opening This Week In Limited Release
---
Like this? Subscribe to our newsletter and get more features, news, and guides in your inbox every week.