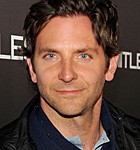 Between enjoying his new status as America's number one box-office draw, performing a promotional tour of Europe and acting as the resident celebrity authority on Rotten Tomatoes, Bradley Cooper's been a very busy guy of late. (Insert NZT joke here.) With his techno-thriller Limitless still doing strong business across the US and opening in UK cinemas this week, the actor took time out for a chat, and to run through five of his favorite films.
"I'm over the moon that it did well," Cooper says of the unexpected success of Limitless. "It really is a kind of an underdog movie in many ways — it's a drama, a thriller, it cost 27 million; it's taking a chance of putting me in a lead role. There's a lot of factors that wouldn't point to it being number one. I thought it was gonna be a festival movie, and when [studio] Relativity started to get excited and talk about it in a bigger way, I was nervous — I never saw this as that kind of shot."
With Limitless proving he can open a hit movie and surefire comedy sequel The Hangover Part II just around the corner, Cooper's really hitting his leading man stride. But, the actor admits, he's not sure exactly what that means just yet. "I have no idea what I'm gonna do next," he laughs. "I have no idea. It's exciting and scary."
Here, then, are Bradley Cooper's five favorite films. ("They change all the time," he qualifies.)
---
---
Limitless is in theaters now.