As the world gets ready to check back into the Overlook Hotel with Stephen King's Doctor Sleep, Rotten Tomatoes checked in with the stars and director of the Shining sequel for a set of extended interviews. Here, Rotten Tomatoes correspondent Naz Perez talks with Ewan McGregor, who plays the movie's grown-up Danny Torrance, about channeling Jack Nicholson for the role, and to Rebecca Ferguson about creating an already-iconic horror villain in Rose the Hat. Plus, director Mike Flanagan reveals what it was like to bridge the gap between two heroes, Stephen King and Stanley Kubrick, and newcomer Kyleigh Curran, who plays a young girl seriously gifted with the Shine, opens up about working with McGregor ("Mr. Ewan!"). The cast and director also share their most terrifying moments from The Shining.
---
Stephen King's Doctor Sleep is in theaters November 8.

#1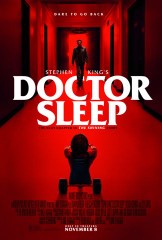 Critics Consensus:
Doctor Sleep
forsakes the elemental terror of its predecessor for a more contemplative sequel that balances poignant themes against spine-tingling chills.
Synopsis:
Traumatized by the sinister events from his childhood, Dan Torrance meets a teen who shares his extrasensory gift of the...
[More]
---
Like this? Subscribe to our newsletter and get more features, news, and guides in your inbox every week.