This October, one of the odder and, in some ways, most ambitious projects in Warner Bros. Pictures' attempts to turn DC Comics characters into feature films will debut: Joker. Directed by Todd Phillips  (The Hangover, Old School) from a script he co-wrote with Scott Silver, the film stars Joaquin Phoenix in a new origin story for the typically origin-less Clown Prince of Crime. It will also be the first of Warner Bros. Pictures' recent DC Comics-based films to completely eschew the notion of an interconnected film universe. Here is what we know about the project so far. [Updated on 8/28.]
---
Joker Stands Alone
Despite Warner Bros' efforts to create a cohesive film universe for its superheroes and assorted villains, Joker will not be part of the same story continuity as Man of Steel, Wonder Woman, Aquaman, or Shazam!. Instead, it will stand alone as its own separate reality. The concept is not unlike DC Comics' own Elseworlds brand. Though long discontinued, Elseworlds told remixed superhero stories featuring such concepts as the Waynes finding the infant Kal-El instead of the Kents or Batman as an actual vampire. Though published before Elseworlds became a formalized concept, The Dark Knight Returns was considered one of these tales. In the years since, DC returned to the idea with the "Earth-1" line and "DC Black Label," which could be a very good name for a line of films separate from the Justice League continuity.
Meanwhile, the Joker of that universe, Jared Leto, is developing his own Joker feature film.
---
He Has a Name This Time, And It's Arthur Fleck
There might be a punchline embedded in that name, but Joker is dispensing with the mystery surrounding the character's real name. This sets it apart from previous Joker tales like The Dark Knight and The Killing Joke, the defining Joker comic book story by Alan Moore and Brian Bolland. In each, the character is treated as unknowable – even in The Killing Joke, the extended flashbacks of a failed comedian embarking on a life of crime are later revealed to be unreliable – with his name obscured. In 1989's Batman, he was given the name "Jack Napier," which became the character's real name in comic-book continuity for a time. But in giving Joker this new name, Phillips and Silver boldly announce the movie will not be as ambiguous about the character's background as The Dark Knight. Which is probably a good idea as The Dark Knight was the definitive screen take on the unknowable, force-of-nature character.
In the film, Arthur (Phoenix) will be a "man disregarded by society," in a story the studio considers both a "gritty character study" and a "broader cautionary tale." Marc Maron, who also appears in the film, echoed the sentiment when asked about the project, adding that the story is more "intimate" and specific in scope than superhero films he made fun of in the past. Additionally, the studio made clear Arthur is a failed comedian who, through the events of the film, becomes the infamous criminal mastermind. And as the recent trailer suggests, his swing toward crime will come after a rather public humiliation.
(Photo by @ Warner Bros. Pictures)
According to Maron, Phoenix lost himself in the role, as often seems to happen when actors play the Joker. Prior to Phoenix, Leto made headlines with pranks "perpetrated" by his Joker on the set of Suicide Squad. Heath Ledger's iconic take on the character was lauded with an Academy Award, but decompressing from the role left him unable to get more than an hour's sleep in the months leading up to his tragic and untimely death.
Maron said Phoenix remained in character between takes. He added that he respected the actor's process and left him alone to maintain the character.
---
It's a Big Departure for the Director
In fact, the "gritty character study" phrase used by the studio has been floating around since the time Phoenix confirmed his participation in the project. According to the actor, part of the film's appeal is its $40 million "low budget" nature. The modest spend is both a departure from the tentpole sort of films Joker appears in and even the sort of films Phillips makes.
The director came to prominence with The Hangover series, which started with a seemingly modest $35 million budget – granted, that figure is on the higher end for comedies of the time – but spending on Hangover films ballooned to $103 million by The Hangover 3. And though Joker appears to be a return to smaller budgets, the subject matter as described in interviews and press releases suggests Phillips will be leaving the zany comedy of Old School or Starsky & Hutch (and even the darker tinged action-comedy of War Dogs) behind for something much more contained and potentially serious.
---
Robert De Niro Is Part Of Joker's New Origin
In the earliest reports on the project, legendary director Martin Scorsese was said to be attached as a producer. The scuttle around that report centered on Scorsese securing the participation of his frequent collaborator Robert De Niro. Though Scorsese's name is absent from official press releases – in fact, he seems to have been replaced by Phillips' old Hangover compatriot, Bradley Cooper – De Niro is a confirmed part of the film's cast. He plays Murray Franklin, a Gotham City talk show host whose callous use of Arthur's stand-up act during an opening monologue will lead Arthur toward his destiny. Many are seeing the casting as an inversion of his role in Scorsese's 1982 film The King of Comedy, in which he played a man like Arthur who takes a talk show host (Jerry Lewis) hostage.
The trailer makes it appear as though Arthur and Murray will come to some accord. A seemingly cordial scene in a dressing room suggests the latter will invite the former onto his show to do a set. Then again, Arthur's request to be introduced as "Joker" also suggests his appearance may not be as copacetic as it seems. Will Murray make it to the end of that night's show alive?
---
The Wayne Factor, Plus A Deadpool Surprise
Other actors in the film include Deadpool 2's Zazie Beetz as Sophie Drumond, a cynical a single mother who, as seen in the trailer, connects with Arthur in an unexpected way; American Horror Story's Frances Conroy as Arthur's mother Penny; and a wide group of performers including Bill Camp, Glenn Fleshler, Douglas Hodge, Maron, Josh Pais, and Shea Whigham.
Brett Cullen will also appear as Thomas Wayne, father of Arthur's eventual nemesis, Bruce Wayne (Cullen also appeared as a congressman in The Dark Knight Rises). According to reports circulating at a time when Alec Baldwin was in early talks to play the part, Wayne will be re-envisioned as a spoiled 1980s land baron. The rather obvious pastiche of a role Baldwin regularly plays on Saturday Night Live may have led to the actor withdrawing from negotiations, though he later said scheduling was the primary cause. From his brief moment in the trailer, it is unclear if Cullen will play this vain version of Thomas, but a wild change to the charitable and caring Wayne patriarch would represent one of the great leaps in DC Comics mythology the film intends to make. It may also indicate more changes to the lore are on their way.
---
Like this? Subscribe to our newsletter and get more features, news, and guides in your inbox every week.
---
Joker is in theaters October 4, 2019
#1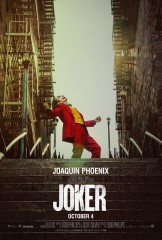 Critics Consensus:
Joker
gives its infamous central character a chillingly plausible origin story that serves as a brilliant showcase for its star -- and a dark evolution for comics-inspired cinema.
Synopsis:
Forever alone in a crowd, failed comedian Arthur Fleck seeks connection as he walks the streets of Gotham City. Arthur...
[More]