Quentin Tarantino's ninth feature film brings him back to Los Angeles for the first time since Jackie Brown, but it's a groovy L.A. of hippies and psychedelia, set in the summer of '69, with the Manson murders around the corner and the Hollywood counterculture at its apex.
Tarantino has said Once Upon a Time in… Hollywood will focus more on the year 1969, not the Manson murders. And that's exactly what we get from the movie's trailer: a pastiche of late-'60s L.A. local color and trippy antics, but virtually no Manson presence, save for one blink-and-you'll-miss-it shot of a crookedly smiling Charles Manson stepping out of a car.
Tarantino said some time ago that he was going to call it quits after making 10 films. Is this really his penultimate film, his almost-swan song? Stay tuned…
---
It Will Premiere at Cannes; Tarantino "Has not left the editing room in four months"
After a game of will-they-or-won't-they, it's been confirmed that the Tarantino movie will play in competition at the Cannes Film Festival. The film is a late addition to the festival, and its inclusion is auspicious: It's been 25 years since Tarantino first came to Cannes with Pulp Fiction, for which he won the Palm d'or. 
Cannes Film Festival General Delegate Thierry Frémaux said in a statement, "We were afraid the film would not be ready, as it wouldn't be released until late July, but Quentin Tarantino, who has not left the editing room in four months, is a real, loyal and punctual child of Cannes. Like for Inglourious Basterds, he'll definitely be there – 25 years after the Palme d'or for Pulp Fiction – with a finished film screened in 35mm and his cast in tow (Leonardo DiCaprio, Margot Robbie, Brad Pitt). His film is a love letter to the Hollywood of his childhood, a rock music tour of 1969, and an ode to cinema as a whole. In addition to thanking Quentin and his crew for spending days and nights in the editing room, the festival wants to give special thanks to the teams at Sony Pictures, who made all of this possible."
---
What It's About
(Photo by Columbia Pictures)
Here's how Tarantino described the film to the Hollywood Reporter last February: "It's a story that takes place in Los Angeles in 1969, at the height of hippie Hollywood. The two lead characters are Rick Dalton (Leonardo DiCaprio), former star of a Western TV series, and his longtime stunt double Cliff Booth (Brad Pitt). Both are struggling to make it in a Hollywood they don't recognize anymore. But Rick has a very famous next-door neighbor… Sharon Tate."
Tate, an actress who was married to the director Roman Polanski (and eight months pregnant with their first child at the time), was murdered, along with three of her friends, by the Manson Family on August 8, 1969. Just how the shocking crime will impact the two protagonists' story – if at all – has been a closely guarded secret. But Tarantino has maintained that the film is about 1969, not the infamous Manson slayings.
Structurally, Once Upon A Time is said to be separated into thematic chapters along the lines of Pulp Fiction. If that's the case, it's entirely possible that Cliff and Rick's characters will not intersect directly with the Manson murders.
Tarantino also told THR: "I've been working on this script for five years, as well as living in Los Angeles County most of my life, including in 1969, when I was 7 years old.  I'm very excited to tell this story of an L.A and a Hollywood that don't exist anymore." In an interesting meta-twist, Tarantino himself is confronting a Hollywood that, thanks to streamers like Netflix, may soon be unrecognizable to many.
Speaking at Cinemacon last April, Sony Pictures motion picture group chairman Tom Rothman raved about Once Upon A Time's script: "It's the best screenplay that I have had the privilege to read."
High praise, considering QT is a two-time Oscar screenplay winner for Django Unchained and Pulp Fiction.
---
The Cast: Fictional Characters vs. Factual
(Photo by Andrew Cooper/Weinstein Company)
Once Upon A Time marks the first time DiCaprio and Pitt appear on-screen together. Both have worked with QT before: DiCaprio on Django Unchained, and Pitt in Inglorious Basterds. DiCaprio was supposedly so enamored of the script that he agreed to a 50% pay cut to work on the film (but don't feel bad – he still earned a reputed $10 million).
Tarantino's longtime cinematographer Robert Richardson, who's been with QT since the Kill Bill movies, was thrilled to be able to frame both DiCaprio and Pitt in the same shots, as he told IndieWire in October. "It's beautiful. To work with Leo together with Brad… It's Butch Cassidy and the Sundance Kid, sort of the contemporary versions. These are two massive stars, and they're so talented. Margot [Robbie] is also phenomenal and wonderful to be around. There are a number of people that you will see within the film that haven't had as much exposure that are remarkable. We've got Dakota Fanning in the movie and she — phew, is she a powerhouse. It's a great cast."
The Rick/Cliff relationship is reportedly inspired by the real-life actor and stuntman duo Burt Reynolds and Hal Needham. They are fictional characters, as is Rick's agent Marvin Schwarz (Al Pacino). But it's the colorful assortment of real-life figures from the period that make Once Upon A Time a Who's Who of late-'60s Tinseltown.
Australian Oscar nominee Margot Robbie stars as Sharon Tate, and another Aussie actor, Justified star Damon Herriman, plays Charles Manson.
(Photo by Weinstein Company)
Bruce Dern plays George Spahn, the California rancher who was persuaded to allow the Manson Family to live on his property. (Remember the Spahn Movie Ranch?) The role was originally, in fact, supposed to be played by Burt Reynolds, who died in September of 2018. In an interview with Rotten Tomatoes promoting his Certified Fresh film, The Mustang, Dern had this to say about Tarantino's film:
"All I can say is — this is me telling you — he's a magician, because in this movie, he did something mad. It's probably the most unique endeavor I've seen a director undertake and do. Without ruining the movie for you — I can't tell you what that is, but the minute you get to see it, you will say, 'Bruce Dern is absolutely right.'"
Dern continued: "You'll know, because he did the single most unpredictable thing I've ever seen a director do, in this movie. And I don't mean a moment; I mean the entire movie. Because, you know what, you… probably remember something about the Manson Murders, and 'How horrendous!' and so forth and so on. Well, everybody says, 'Oh my God! I can't wait 'til Quentin does the Manson Murders. There's a movie about that, I can't wait,' and so forth and so on. Well, I won't say a word, but remember I told you what I told you."
Moving on, Dakota Fanning plays Lynette "Squeaky" Fromme, a Manson disciple best known for trying to assassinate President Gerald Ford. Billions star Damian Lewis plays A-list actor and heartthrob Steve McQueen, then considered the coolest Hollywood star on the planet.
(Photo by Columbia Pictures)
Emile Hirsch plays celebrity hairstylist Jay Sebring, also killed in the Tate murders. Polish actor Rafal Zawierucha plays the young Roman Polanski, who was filming in London on the night his wife was killed by the Manson Family. Austin Butler plays Charles "Tex" Watson, the most vicious of the Manson Family killers, who was convicted of seven first-degree murders.
Girls star/creator Lena Dunham plays Catherine "Gypsy" Share, a Manson follower who did not participate in the murders, while The Haunting of Hill House star Victoria Pedretti plays Manson Family member and convicted murderer Leslie ("Lulu") Van Houten — who was just 19 at the time of the slayings.
Fittingly, Mike Moh plays martial arts icon Bruce Lee, who actually suspected Polanski briefly in Tate's murder. Moh, who starred in Street Fighter: Assassin's Fist, has paid tribute to Lee in several YouTube videos.
And, sadly, Once Upon A Time marks the final on-screen role for Luke Perry, the Beverly Hills 90210 and Riverdale star who died suddenly on March 4 at the age of 52. Perry plays Scott Lancer, one of the main characters on the Western TV series Lancer, which ran on CBS from 1968 to 1970.
Other stars playing both true-life and fictional characters include long-time Tarantino mainstays Michael Madsen and Tim Roth, as well as Kurt Russell, Timothy Olyphant, Lorenza Izzo, Maya Hawke, Rumer Willis, and Scoot McNairy.
---
Keep in Mind…
(Photo by )
Tarantino has been known to play hard and loose with history. Remember how Inglorious Basterds imagined an alternate reality in which American Jewish soldiers took their revenge on Hitler and murdered him at the height of WWII? Is it possible Once Upon A Time will put its own stamp on the most infamous, shocking crime of the 1960s, a crime that signaled a dark, bloody end to hippie culture? Dern's words seem to suggest it might.
Sharon Tate's sister Debra, who's been very protective of her sister's legacy and, according to an article on Nerdist.com, was already protesting the film even before she knew what it was about, told TMZ: "This movie is not what people would expect it to be when you combine the Tarantino and Manson names."
Sounds like she approves. Get ready for the unexpected.
---
Once Upon a Time in… Hollywood  opens everywhere on July 26.
#1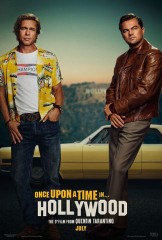 Critics Consensus:
Thrillingly unrestrained yet solidly crafted,
Once Upon a Time in Hollywood
tempers Tarantino's provocative impulses with the clarity of a mature filmmaker's vision.
Synopsis:
Actor Rick Dalton gained fame and fortune by starring in a 1950s television Western, but is now struggling to find...
[More]
---
Like this? Subscribe to our newsletter and get more features, news, and guides in your inbox every week.