How well do Kevin Hart and Dwayne Johnson know their own movies? And how do they react when they come face-to-face – or, at least, face-to-text – with their critics? That's what we found out when we sat down with the Jumanji: The Next Level leads for a game of "Name the Review." The concept is simple: Each actor reads the other a line from a review of one of their films – then they have to guess the movie being referenced. Which film was merely "tolerable"? And how does Hart react to that blunt assessment? Find out in the video above. And be sure to play along – you may know the guys' careers even better than they do.
---
Jumanji: The Next Level is in theaters December 13, 2019.

#1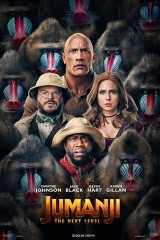 Critics Consensus:
Like many classic games,
Jumanji: The Next Level
retains core components of what came before while adding enough fresh bits to keep things playable.
Synopsis:
When Spencer goes back into the fantastical world of Jumanji, pals Martha, Fridge and Bethany re-enter the game to bring...
[More]
---
Like this? Subscribe to our newsletter and get more features, news, and guides in your inbox every week.