(Photo by Jason Merritt/Getty Images)
It's not every day you get to talk to Captain Hook on the phone, but thankfully the actor playing him on ABC's Once Upon a Time, Colin O'Donoghue, is a charming and delightful man. O'Donoghue also appears this week in a new film called Carrie Pilby — a comedic drama in which he plays a professor with decidedly questionable ethics (more on that later), and he was only too happy to share his Five Favorite Films with us. Read on for his list: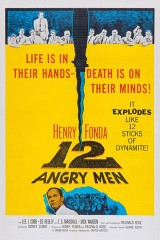 My first one is 12 Angry Men. I remember I watched it at school, I think I saw it at fourteen for the first time. And when you're that age, you kind of want to watch big blockbuster movies and all that kind of stuff. And I just couldn't get over the fact — basically it doesn't leave the room for the whole movie. And it's just these guys sitting around discussing this crime, and whether or not they're going to find the guy guilty or not. I just found it so engaging and stuff. You know the cast and stuff was just incredible with Henry Fonda and Lee J. Cobb, and all these incredible actors. I just thought it was mind blowing, you know?
I think it was based on a radio play — I don't know. And then I figured it was a theatrical play, and then they made a movie. That's the other thing, I was also just beginning to start to want to be an actor. Or join the theatre group in my hometown. It all sort of happened at the same time, and I was beginning to understand it a little bit more about how they're engaging, and how you can hold people's attention for that long just by the performance itself.
If it's in one room — to adapt a play and to have it be riveting on screen — that's really something. 
Yeah. It's a difficult thing. You know? But it's just incredible of them.
That's one thing about trying to figure out these five movies; I really want to go back and watch all of them again. Just sit in my house and watch them.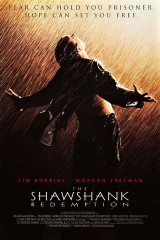 That's another one for me that, basically it's stunning how — it's an incredible watch. And I think it's the performances, again, I find riveting. Tim Robbins and Morgan Freeman are just incredible. It's just such a beautiful film, I think. The story is incredible, it's so well made. I think Frank [Darabont] dialed in on the direction — I love all of his movies. They have a style that I really like. Anytime I think of this movie, it's just a sweeping shot coming over the prison while Morgan Freeman is narrating his — it's such an incredible sense of memories. I went to see it with my parents; I guess I was thirteen when it came out. I think I was — or fourteen — and I remember just being absolutely blown away by it. I mean I know it's one that's on nearly everybody's list, but for me it was also — it was kind of like the first sort of grown-up movie that I went to see with my parents, and that we could have a proper conversation about.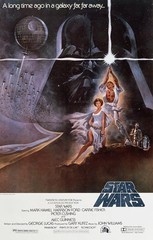 The next one I've given is a given. It's Star Wars. It's definitely a part of my childhood. It's hard for me to pick — I think Empire is probably my favorite of the three. But if I was to pick one, I think the first Star Wars would have to be the one, because that's the one that I remember most. I was a Star Wars fanatic growing up. I guess I still am. Pretty much for everybody who grew up in the 1980s as well, it's a symbol of their childhood. And most people — it reminds me back home in Ireland it used to be on every Christmas. It was sort of… You got all the action figures and all that kind of stuff. And it was just an incredible, incredible movie, and then when [the others] came out, they were sort of events when I was a teenager — that you wanted to go see them. Even if they weren't as good.
Star Wars became a lifestyle. 
Yeah, I think so. Because I remember I used to have a Super Nintendo, and I remember getting the Star Wars game on the Super Nintendo. And that was like — anything and everything Star Wars was such a huge deal. I don't know what age you are, but I'm 36, and when they began to come out with more and more action figures or t-shirts and retro shirts and stuff, you kind of had to have everything. But now there is just a lot of Star Wars stuff around — kind of a lot of everything.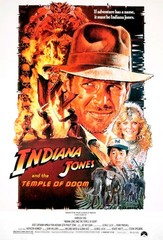 The next one is Temple of Doom. That's the one that sticks with me most. I was born in '81, so I know that was [when] the first Indiana Jones was. But I remember Temple of Doom most, and so I just have to pick that. I mean, it's for pretty much the exact same reasons as Star Wars. It's my childhood. Indiana Jones is the character that I just wished that I was, you know what I mean? [The one] I wanted to be as a little kid. And they're also just really, really well made, fantastic movies. You know, all the Indiana Jones — well the first three anyways.
I also love that time period. I love that sort of 1930s and 1940s, I love that period — the thought of it. And I like war movies and all that kind of stuff as well.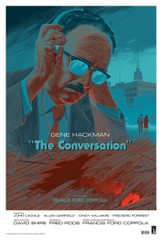 Well the next one is less action oriented. This is where I began to struggle. Because I had my first four and was like, "Okay, that's perfect," and then I had to pick another one. This decision is a bit tough; there's a three way tie for this, I should say. I'm going to pick The Conversation with Gene Hackman and John Cazale. And the reason I'm thinking this is, I did a movie with Anthony Hopkins called The Rite, and the director of photography — we talked a bit. And he really wanted to have that '70s feel and stuff — it's when they just started to use the zoom lens for the first time, and how innovative it was. And then in the 1980s, it became overused and used for the wrong reasons and all that kind of stuff. The Conversation is one that, if you watch The Conversation for the opening sequence where you hear a conversation taking place as the master — this zoom from way up is zooming in over a park. And I was just absolutely blown away by it because you can hear exactly what's happening, but you don't see. You've got no idea who's talking. You don't know where they are or what's happening. I was blown away. And Gene Hackman is one of my favorite actors. I just think he's incredible; I could watch him read the phone book. I could watch him pretty much not do anything [laughing]. You just wonder what's going on in his mind. He's one of those actors who is saying one thing, but you know there's so many different things going on inside of his head. You just never know exactly what it is and stuff. I love that. I love being kept guessing.
Francis Ford Coppola is one of the greatest directors of all time, and what I thought was great was that it sort of embodies that period of time. Even though it was made in the '70s and it's a very specific '70s movie, I think it's very, very particular to today. You know, with surveillance and all that kind of stuff. And I just think the whole idea of it is incredible, and it's just so well made.
---
Kerr Lordygan for Rotten Tomatoes: Did you have any moral conflicts with your character in Carrie Pilby? 
Colin O'Donoghue: [Laughing] What impressed me with the character — because I signed on pretty early — was that I work on a TV show called Once Upon a Time — I play Captain Hook — and for me it was important to play a character that was very different from the character that I do 22 episodes [each] of for the last four years, you know what I mean? What I liked in the script was that the story that was told in the context of different men in her life then as well. So you had the professor I play, and you had the eventual boyfriend who she ends up with — all these different guys — her father and stuff. And I like the fact that he's such a horrible piece of work, this professor. It was just nice for me to get to play that and see how I could put a little bit of myself into it.
RT: It's a total 180 from Captain Hook, that's for sure.
O'Donoghue: Yeah. It's also nice just because the cast is incredible. Susan [Johnson]'s a fantastic, amazing director. And it's great material. I don't get a chance to do that much because we shoot nine months of the year. So it's nice to have that window and get to do something really, really, fun and with a great cast and great script. So, I was delighted.
---
Carrie Pilby opens on Friday, Mar. 31, 2017 in limited release and On Demand Tuesday, Apr, 4, 2017.