Think nothing new can be said about the legend of Arthur, Excalibur, and the Knights of the Round Table? Think again. In Netflix's new big-budget, sword-and-sorcery fantasy series Cursed, the Lady of the Lake rises from the depths – of the English waters as well as relative literary obscurity, if you've only seen big-screen adaptations – to take center stage, portrayed by 13 Reasons Why star Katherine Langford. Merlin, Arthur, and other familiar names are here too, but in the series – adapted from the graphic novel by Frank Miller and Tom Wheeler – it's Langford's Nimue who drives the action, giving audiences a fresh and modern perspective on the world and its stories. Ahead of the series' release on the streaming giant, Rotten Tomatoes correspondent Jacqueline Coley spoke to Langford, Miller, Wheeler, and series co-stars Devon Terrell, Gustaf Skarsgård, Shalom Brune-Franklin, Daniel Sherman, and Lily Newmark about the enduring appeal of the Arthurian legend, the unique spins they've given their famous characters, and how they prepared for – and endured – a 10-month shoot that called on them to become experts in swordplay, horse-riding, and, for at least one actor, foraging.
Cursed is available on Netflix now.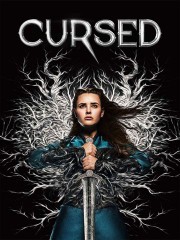 Critics Consensus:
Cursed
's first season isn't as subversive as its source material, but strong plotting and a heroic performance from Katherine Langford make for an enjoyable escape.