This weekend at the movies, we've got probably the most anticipated movie of the year (Avengers: Endgame, starring Robert Downey Jr. and Chris Evans). What are the critics saying?
---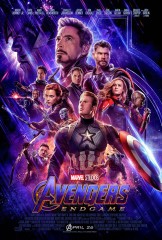 Well, it's finally here. After over a decade and 21 films, the great — and wildly successful — experiment that has been the Marvel Cinematic Universe is ready to bring its first volume to a close. We say "first volume" because, by all indications, the franchise is set to continue for the near future, even if we can't quite predict whether or not the upcoming slate of Marvel movies will be anywhere near as successful. Avengers: Endgame follows up on last year's Infinity War, which ended with half of all life being snapped into oblivion by big bad Thanos, by bringing together the remaining heroes to figure out if there's anything they can do to fix the situation. We'll refrain from spoilers here, but suffice it to say critics are largely quite pleased with how Endgame brings everything full circle, providing epic battles, poignant character moments, and suitably satisfying conclusions to some narrative threads. In other words, this is everything Marvel fans could hope for, and those who have been following along with the exploits of Iron Man, Captain America, Thor, Hulk, Black Widow, Hawkeye, and the rest of the gang should leave the theater fully content, if maybe a little bit sad.
---
Also Opening This Week In Limited Release
---
Like this? Subscribe to our newsletter and get more features, news, and guides in your inbox every week.