Some 31 years after the original comedy that made them household names was released, time-traveling slackers Bill and Ted are back – along with the actors who made them icons, Keanu Reeves and Alex Winter. In Bill & Ted Face the Music, the boys – now middle-aged men with kids – are tasked with creating a song that will save the universe, and they have less than 80 minutes to do it. Ahead of the movie's release, Rotten Tomatoes sat for a Bill & Ted deep dive with Reeves and Winter, as well as writers and co-creators Chris Matheson and Ed Solomon, who created the characters in sketch workshops and have written all three films in the Bill & Ted trilogy. Here, the quartet take us back to the very beginning, remembering first auditions, revealing how sequel Bogus Journey almost turned out very differently, and giving us their takes on why the characters continue to appeal and what it means to "be excellent to each other."
Bill & Ted Face the Music is in select theaters and available on VOD now. 
#1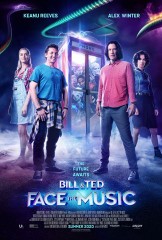 Critics Consensus:
As wholesomely goofy as its heroes,
Bill and Ted Face the Music
is a rare long-belated sequel that largely recaptures the franchise's original charm.
Synopsis:
The ruler of the future tells best friends Bill and Ted they must compose a new song to save life...
[More]