This week at the movies, we've only got one new wide release, and it's an animated adventure about an abducted animal ally with an affable attitude (Abominable, featuring the voices of Chloe Bennett and Tenzing Norgay Trainor). What are the critics saying?
---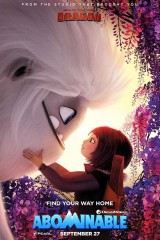 You're probably thinking to yourself, "Isn't this the third animated family movie about not-so-abominable snowpersons that's been foisted upon me, the unsuspecting average moviegoer, in the last year alone?" And you would be correct, dear unsuspecting average moviegoer: Smallfoot hit theaters almost exactly a year ago, we got Missing Link back in mid-April, and this week sees the release of Abominable, from the same studio (as the poster proudly declares) that gave us How to Train Your Dragon. The previous two films were both Certified Fresh, and so far, it looks like Abominable is enjoying a similarly positive reception. Chloe Bennett (Marvel's Agents of S.H.I.E.L.D.) voices a young woman in Shanghai named Yi, who's never fully recovered from losing her father. When she encounters an escaped Yeti hiding out on her rooftop, she and her friends set out on the journey of a lifetime to escort their new friend back to its home on Mt. Everest. In other words, this isn't exactly groundbreaking stuff, as far as storytelling goes, but it hits all of the requisite beats so charmingly that critics find it difficult to resist. Toss in a supporting cast that includes Eddie Izzard and Sarah Paulson, as well as some striking visuals of China's vast and varied landscape, rendered in gorgeously framed cinematography, and Abominable is shaping up to be a pretty solid piece of family entertainment.
---
Also Opening This Week In Limited Release
---
Like this? Subscribe to our newsletter and get more features, news, and guides in your inbox every week.