In this week's Ketchup, a new Iron Man still appears for those patiently awaiting the May blockbuster, rumors about the cast and director of the Superman Returns sequel, and shots of the highly (?) anticipated sequel to The Lost Boys hit the web.
This Week's Top News:
New Iron Man Photo Online!

The Dark Knight has been stealing all the superhero buzz lately, but Jon Favreau's Iron Man is still one of the most hotly anticipated movies of 2008 — and look, here's another shot of Robert Downey Jr. in action to remind us why!
Bryan Singer, Brandon Routh Leaving Superman Returns Sequel?
Depending on what week it is, and which rumor you believe, Bryan Singer has either spent the last year and a half preparing to buckle down and get to work on the sequel to Superman Returns, or he's continually put it off in favor of other projects. Well, now we can add a new rumor to the list: Singer won't be directing the sequel at all.
First Shots of Corey Feldman in Lost Boys 2 Online

The movie that Corey Haim has been waiting 20 years to see is finally on its way!
New Cloverfield Stills, TV Spots, Production Notes Online
With a little over a week to go before Cloverfield reaches theaters, it's time for the hype machine to kick into high gear — which is why you've got a whole bunch of new J.J. Abrams-produced monster-movie goodness to feast your eyes on this morning!
Olga Kurylenko Is Bond 22's Femme Fatale
Just days after the announcement of Gemma Arterton's casting stirred rumors that she was the new "Bond girl," Columbia Pictures has issued a statement introducing the world to Daniel Craig's leading lady for Bond 22: Ukrainian actress Olga Kurylenko, most recently seen in Hitman.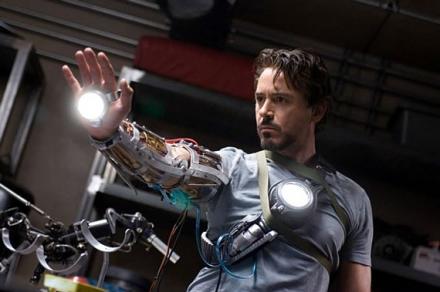 Robert Downey, Jr., as a rich guy with way too much time on his hands.
In Other News

Will she finally be unattractive in a film?
Around the Site: