Whew — we survived the leaks. But how to choose only five "best moments"? We've set ourselves an impossible task for episode 6 of Game of Thrones season 7, "Beyond the Wall."
Spoiler warning: Stop here if you haven't watched season 7, episode 6 of Game of Thrones. 
Here are five moments that stood out in the sixth episode of HBO's hit fantasy series.
---
1. Arya Scares the Stuffing Out of Sansa
You people are violent. The number of fans hoping that Arya (Maisie Williams) will wear her sister Sansa's (Sophie Turner) face or stab Littlefinger (Aidan Gillen) through the eyeball was huge this episode — more huge than usual, that is. Perhaps Arya's psycho act was infectious.
I'm not saying you're wrong.
---
2. The Hound Busting on Tormund
The comedy was so good this episode. Guess they wanted to soften us up before they plunged the ice spear in.
Tormund (Kristofer Hivju): "You're the one they call 'the Dog.'"
The Hound (Rory McCann): "F— off."
Tormund: "They told me you were mean."
And…
The Hound: "You're with Brienne of f—ing Tarth?"
Tormund: "Well, not with her — yet. But I see the way she looks at me."
The Hound: "How does she look at you? Like she wants to carve you up and eat your liver?"
Tormund: "You do know her…I want to make babies with her. Think of them: great big monsters! They'd conquer the world!"
The Hound: "How did a mad f—er like you live this long?"
---
3. Dragon Battle North of the Wall
(Photo by HBO)
The red shirts got it first from a dead bear, then Thoros of Myr (Paul Kaye) is mauled by the monstrosity.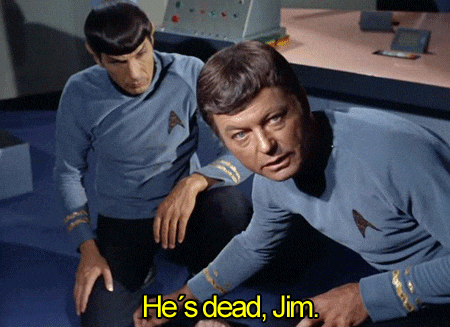 (Photo by CBS)
Thoros survives, but later dies of hypothermia while spending the night on a small rock outcropping in the middle of a barely frozen lake surrounded by wights — who don't float, by the way — and their White Walker masters.
Then — oh god no!
---
---
Let's just say, Viserion was unfortunately named.
At Jon's insistence — another plot issue — Daenerys flies off with a Drogon-load of heroes (and one wriggling wight), while Jon remains to battle the undead. Jon could have instead hopped up on the dragon behind Dany and pulled the other heroes to safety while Drogon sprayed the decomposing mass with more dragon fire. But no. Instead he gets pulled under water by the non-floating wights, somehow manages to free himself, hauls his fur-clad self up out of freezing water, and shudders his way over to the lake's edge where he, of course, attracts the attention of the shambling horde.
And then! Uncle Benjen saved Jon.
---
4. Jon Bends the Knee (in Bed)
Jon awakening to misty-eyed Dany and then pulling a dead-dragon-guilt-fueled bending of the knee triggered the shippers.
---
5. Ice Dragon
Everybody was feeling a little like this after seeing Viserion sink into the lake.
---
Final Thoughts
We said goodbye to live Viserion — and hello to wight Viserion — and a pretty much guaranteed goodbye to Uncle Benjen, but the topknot-sporting Red Priest of R'hllor's death hit us particularly hard.
Also, the Hound is just useless in a crisis.
One episode left — feeling that Thrones separation anxiety already?  Visit our Debate of Thrones Facebook group to commiserate with some fellow fans.
Game of Thrones season 7 finale airs Sunday, August 27 at 9 p.m. on HBO. 
---
---
---