From epic TV crossovers like Crisis on Infinite Earths to prestige TV dramas like Watchmen and the groundbreaking and record-breaking success of the Marvel Cinematic Universe, there's no denying the huge pop culture appeal of comic books and superheroes. But just a few years ago, things were different. Back in the early 2000s, superhero movies were seen as big risks, and quite a few of them flopped.  Coming off the failure of Catwoman and just a few months before Christopher Nolan rebooted Batman and changed the character forever with Batman Begins, Francis Lawrence made his directorial debut with a supernatural noir-thriller adaptation, Constantine.
Though some fans never forgave the movie for changing the look and sound of John Constantine from a distinctly English, blonde practitioner of the dark arts into a jet black-haired, very American Keanu Reeves, the film has sparked renewed interest in recent years, partially thanks to a resurgence of Reeves' career — a Keanussance, if you will — and the increased popularity of a genre whose fans have learned to appreciate films that attempt to do something different with their source material. For its 15th anniversary, we clutch our crucifixes and walk down the path to Hell as we explore why Constantine not only deserves our attention, but also, from some of us, our apologies.
---
It's A Noir Thriller in Addition to a Comic Book Movie
(Photo by Warner Bros. courtesy Everett Collection)
The world of Constantine is one in the middle of a Cold War between two superpowers. Only, it's not a war between two countries, but one between the literal forces of Heaven and Hell, with Earth stuck in the middle. Demons and angels can't cross over to our plane, but "half-breeds" use humans as "finger puppets," influencing them to do their bidding in a battle for their souls. Like a good detective story, there's a plot in place that could end the war in disaster, and it's only our gritty, cynical, jaded Philip Marlowe-esque protagonist who can stop the conspiracy before it brings about the end of the world. Constantine (Keanu Reeves) is a man cursed with the ability to see half-breeds and other supernatural creatures, and when he crosses paths with a detective (Rachel Weisz) whose twin sister (also Weisz) committed suicide, they find themselves in the crosshairs of both demons and angels.
Though this slow-burn, mystery-focused approach didn't connect with some fans of the comic book, it allowed for a unique film experience, as Constantine offers a religious twist on the detective story. The God of Constantine is a distant, cold, reserved and calculating figure, a constant foil to our protagonist who guides him along to find the clues, eventually saves his soul, and gives him another assignment. In other words, God Himself plays something of a surrogate femme fatale., whose unseen presence is nevertheless felt throughout the film.
---
The Supporting Cast Is Excellent
(Photo by Warner Bros. courtesy Everett Collection)
A detective noir story is only as good as its supporting cast, and Constantine boasts an impressive ensemble on par with the blockbuster superhero movies of today. When the film begins, we meet Pruitt Taylor Vince (Agents of S.H.I.E.L.D., The Devil's Candy) as Father Hennesy, a priest driven to drink by visions of demons, and a friend to Constantine. Shia LaBeouf plays Constantine's young driver and eager apprentice, and Djimon Hounsou (Blood Diamond, Shazam!) is a sinister former witch doctor now managing a nightclub that serves as a neutral meeting ground for the forces of both Heaven and Hell. Each of them infuses the film with a grounded performance that offers an interesting contrast to the film's more fantastical plot.
Then there's the villains. The moment we first see Constantine walk into a church, bypass the priest, and address a mysterious figure standing by the fire as "Gabriel," we know this is someone worth paying attention to. In one of the most interesting performances of her career, Tilda Swinton plays the archangel Gabriel as an androgynous and slightly psychotic figure who speaks in a calm, gentle voice befitting someone from a higher plane of existence. Arguably the first of her more otherworldly performances, Gabriel finds Swinton striking a perfect balance between being threatening and being a welcoming presence. And then there's Satan himself. Early in the film Constantine is told that he is the only soul Satan will come up to collect in person, so when the film finally introduces us to the Morning Star in the form of Peter Stormare (American Gods, John Wick: Chapter 2), it's the ace up the film's sleeve. Stormare's Lucifer doesn't have horns or a pitchfork, but he shows up in a pristine white suit with boiling tar dripping from his bare feet. He taunts Constantine with a surprising gentility and odd mannerisms, fully embodying the charmer capable of convincing men to sell their souls in exchange for favors. It's a brief role, but it's instantly memorable.
---
Keanu Reeves Plays John Constantine as a Proto-John Wick
(Photo by Warner Bros. courtesy Everett Collection)
John Wick is considered to be the beginning of Keanu Reeves' recent resurgence, as the tale of an assassin-for-hire going back to work following the murder of his dog became a career-redefining moment. The thing is, fans of Constantine had already seen a preview of Reeves' performance way back in 2005.
A hard-drinking, chain-smoking freelance exorcist, Constantine has been working for so long that his name is alternately feared and hated across Heaven and all rings of Hell. Reeves portrays Constantine as the quintessential noir anti-hero, a demon-fighting Philip Marlowe. He mutters, acts like a smartass, and generally scoffs at his existence, for he has seen too much. Yet Reeves' Constantine never seems disturbed by what he sees; he approaches the shenanigans of the plot as if it were just another day at the office. Sound familiar? Constantine is a man who absolutely hates how good he is at his job, but he does it for personal — and arguably selfish — reasons, whether it's revenge or a shot at ascending to Heaven when he dies. And of course, Constantine is as big a badass as John Wick, capable of conning both God and the Devil into saving his life.
---
It Offers a Unique Vision of Hell
(Photo by Warner Bros. courtesy Everett Collection)
A movie about Hell has to show us what it actually looks like at some point, and Constantine gives us one of the best and most unique visions of the underworld. Instead of a dark void or a fiery, cavernous land, Francis Lawrence had something else entirely in mind. In an interview with Horror.com, Lawrence said that he wanted Hell to be a sort of parallel universe, replicating our world with the same buildings and streets as the Los Angeles of the film, except in a desolated nuclear wasteland. Indeed, Lawrence goes on to talk about looking at nuclear test films from the '40s and wanting Hell to look like an eternal nuclear blast site where nothing explodes because time is endless there.
Additionally, Constantine is filled with demons, for obvious reasons. The film shows a series of disturbing zombie-like creatures that are the stuff of nightmares, all brainless because Lawrence wanted the demons to be entities without agency, acting on instinct. This is where the film's horror inspirations really shine, as Constantine faces the decaying spawns of hell and a monster made out of hundreds of bugs. It comes as no surprise that Lawrence would go on to direct I Am Legend, which also features zombie-like creatures, just a couple of years later.
Constantine didn't leave the biggest mark on the history of comic book-inspired cinema, but especially at a time when those films tend to follow a standard formula, we look toward style and unique visions more than ever. In that regard, you'd be hard-pressed to find a more intriguing take on the comic book horror story than the tale of the freelance exorcist, John Constantine.
---
Constantine was released on February 18, 2005.
#1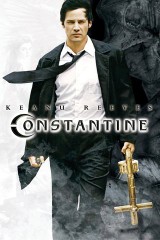 Critics Consensus:
Despite solid production values and an intriguing premise,
Constantine
lacks the focus of another spiritual shoot-em-up:
The Matrix
.
Synopsis:
As a suicide survivor, demon hunter John Constantine (Keanu Reeves) has literally been to hell and back -- and he...
[More]
Like this? Subscribe to our newsletter and get more features, news, and guides in your inbox every week.