If there's one Cannes film set to give you major FOMO this May, it's Rocketman, the highly anticipated Elton John biopic starring Taron Egerton as the Grammy-winning musical phenomenon. The movie will have its star-studded world premiere at the Riviera-based festival on May 16.
But Fandango is giving fans the chance to eliminate any FOMO with a series of Early Access screenings just days after the premiere – and two weeks before the movie opens in theaters stateside.  
For one day only, on May 18, the ticketing service is hosting special Early Access screenings of Rocketman across the country. All you have to do to ensure you see the movie before everyone else is purchase your tickets through Fandango here.
Rocketman, which is directed by Dexter Fletcher, is one of the most anticipated music biopics of all time, telling the story of John's rise from talented young prodigy at the Royal Academy of Music to world-conquering global superstar.
The key players are all there: songwriter and lyricist Bernie Taupin (Jamie Bell), manager John Reid (Richard Madden), and Elton's mother, Sheila Eileen (Bryce Dallas Howard).
Since the release of the first Rocketman trailers, Egerton has been wowing fans with snippets of his performance (his Elton John swagger onto the stage of the L.A.'s Troubador has launched a thousand memes). And he's been showing off his vocal chops in featurette videos that show him recording all of his own vocals for the film. (Though if you had any doubts Egerton would nail the vocals, you clearly haven't seen Sing, in which he voices gorilla Johnny, who sings John's "I'm Still Standing.")
You can see just how fully Egerton embodies John when the movie is released May 31 – or get a jump on everyone else and check him out at an Early Access Rocketman screening on May 18.
---
Rocketman is showing in a series of special screenings on May 18 – buy tickets now. The movie is in theaters everywhere May 31.
#1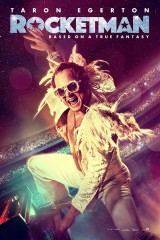 Critics Consensus:
It's going to be a long, long time before a rock biopic manages to capture the highs and lows of an artist's life like
Rocketman
.
Synopsis:
Young Reginald Dwight changes his name to Elton John and collaborates with singer-songwriter Bernie Taupin to become one of the...
[More]