Shia Labeouf isn't exactly known for earnest, heartfelt dramas, but when the trailer dropped for his latest movie, The Peanut Butter Falcon, audiences knew to expect something different. After the film's premiere at South by Southwest earlier this year, critics confirmed what curious moviegoers had been suspecting: it's a sweet, nuanced adventure movie with outstanding performances from its ensemble cast. The story centers on a young man with Down syndrome (played by Zack Gottsagen), who escapes his nursing home in order to pursue his dream of becoming a professional wrestler. With a well-meaning caretaker (Dakota Johnson) from his nursing home in pursuit, he joins up with a petty criminal with problems of his own (LaBeouf) to blaze a trail through the deltas of the American Southeast en route to a training facility for wrestlers in North Carolina.
Ahead of the release of the film this week, the trio of stars sat down with RT editor Jacqueline Coley to talk about what it was like to make the film, and it was clear that all three had found something special. Watch the interview above to see how they got so close during filming, what they'd like people to remember about them, and how Gottsagen helped LaBeouf become more friendly. Then try to figure out what LaBeouf's birthday wish was that he so coyly implies came true.
---
Like this? Subscribe to our newsletter and get more features, news, and guides in your inbox every week.
#1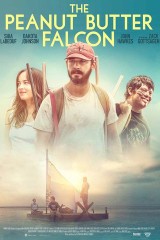 Critics Consensus:
A feelgood adventure brought to life by outstanding performances,
The Peanut Butter Falcon
finds rich modern resonance in classic American fiction.
Synopsis:
After running away from a residential nursing home to pursue his dream of becoming a pro wrestler, a man who...
[More]