Join us weekly as Rotten Tomatoes reports on what's opening, expanding, and coming to the specialty box office. From promising releases from new voices to experimental efforts from storied filmmakers – or perhaps the next indie darling to go the distance for end-of-year accolades – we will break it all down for you here each week in Fresh Indie Finds. 
---
This week at the specialty box office we find a pair off-kilter comedies that will have you giggling through the awkward stares and a crowd-pleaser of a musical featuring musician-turned-actress Jessie Buckley. Looking ahead to the fall movie season we see new trailers featuring Lee Pace (Guardians of the Galaxy) and Jason Sudeikis (Booksmart) in a based-on-a-true-story FBI caper surrounding the man who invented the DeLorean, and a moving documentary chronicles the life and tragic death of Star Trek actor Anton Yelchin.
Opening This Weekend
---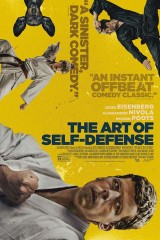 Jessie Eisenberg takes the lead in this dark and hilarious take on the awkward loner.

The Social Network

star plays an alienated office accountant who, after he is assaulted, joins a more-than-meets-the-eye karate dojo and follows the teachings of its unorthodox sensei to defend himself. Writer-director Riley Stearns' script and Eisenberg's deadpan comedic timing make one think of what Yorgos Lanthimos would have created if tapped to remake

The Karate Kid.

Brimming with satirical swipes at toxic male behavior, 

Joey Magidson of AwardsCircuit.com

called it "The best skewering of masculinity since

Fight Club."
---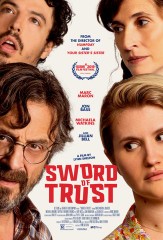 Lynn Shelton has assembled an all-star line-up of improv comedians for her latest feature, a

Curb Your Enthusiasm–

styled comedy centered on an infamous sword. The actors – including Marc Maron, Jillian Bell, Michaela Watkins, and Jon Bass – were given only the basic framework of each scene and had to improvise, prompting 

Dennis Harvey of Variety

 to write, "Everyone onscreen is so good, one wishes more tightly scripted comedy screenplays had such savory dialogue." The cast of veteran actors meets the loose-form challenge and exceeds expectations in this hilarious "unscripted" feature.

Playing New York this weekend, expanding to limited screens July 19.
---
Fresh and Still in Theaters
---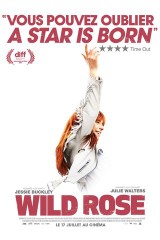 Spotlight Pick!

Last year, the Toronto International Film Festival saw a fresh crop of musicals about dynamic female musicians. Following the releases of Teen Spirit, Vox Lux, Her Smell, and the Oscar-winning A Star Is Born, the last of the bunch, Wild Rose, came out a few weeks ago in limited release and expands to more cities this week. Jessie Buckley has a star-making turn as the complicated and talented Rose-Lynn, whom Jeff Mitchell of the Phoniex Film Festival dubbed: "The best lead female performance of the year so far." Strapped with two kids, a parole officer, and an unflinching determination to succeed, Glasglow native Rose-Lynn travels to Nashville in her quest become the first Scottish country music super-star.

In Limited Release.
Along with…
---
New Indie Trailers
---
Driven (2018) 64% 
In the 1980s, John DeLorean started to engage in illegal activity to save his struggling motor company and unwittingly befriends a charming, ex-con pilot turned FBI informant.
---
Love, Antosha (2019) 97%
A portrait of the extraordinary life and career of actor Anton Yelchin.
---
Sea of Shadows (2019) 94% 
The vaquita, the world's smallest whale, is near extinction after years of relentless poaching; in this film we follow a group of activists who are fighting back against the illegal multi-million–dollar business.
---
Like this? Subscribe to our newsletter and get more features, news, and guides in your inbox every week.