Join us weekly as Rotten Tomatoes reports on what's opening, expanding, and coming to the specialty box office. From promising releases from new voices to experimental efforts from storied filmmakers – or perhaps the next indie darling to go the distance for end-of-year accolades – we will break it all down for you here each week in Fresh Indie Finds. 
---
This week at the specialty box office, we find a new crime comedy centered on the scandalous founder of the DeLorean Motor company, maker of the iconic Back to the Future car. Also, a new 18th-century gothic drama that seems the type of film to pair nicely as a double feature with Robert Eggers' The Witch, and a terrifying, sobering documentary about the awesome power of water. In our indie trailers section, we find new clips from Shia LaBeouf's screenwriting debut, this year's top prize winner from the Cannes Film Festival, and Nicolas Cage back to give us another dose of his very special brand of weird.
---
 Opening This Weekend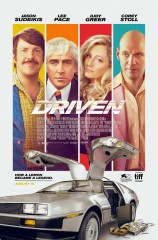 The dream to be the best automaker in history drove DeLorean Motor Company founder John DeLorean to a life a crime — or maybe drove crime to find him. Those true-life events are where director Nick Hamm and writer Colin Bateman found the narrative for Driven. When his company was facing financial ruin, with an intense need to find 20 million dollars quickly, DeLorean felt no choice but to resort to crime, namely trafficking large amounts of cocaine. The caper that would have netted him enough to save his failing company eventually led to its destruction and DeLorean's financial ruin, but not before a few twists and turns along the way. Douglas Davidson of Elements of Madness called Driven, which stars Jason Sudeikis, Lee Pace, and Judy Greer, "A fun, charmingly sweet, slightly unbelievable, and heartbreaking adventure of broken friendships and shattered dreams powered by the strong performances of a top-notch cast."

Playing New York, Los Angeles, Cleveland, Dallas, Denver, Detroit, Houston, Minneapolis, Philadelphia, and Phoenix this weekend; expanding to limited screens on August 23. 
---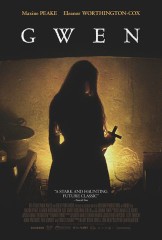 Gwen follows an 18th-century girl from the Welsh countryside who is trying her best to hold things together. Caring for a mother who suffers from a mysterious illness without the help of her absentee father, while her neighbors threaten to take her farm, our lead is set upon from all sides. As perilous as her situation is, her troubles are exacerbated when an ever-growing and omnipresent evil force envelops her home. Similarly to The Witch, the film's eerie ambiance and chilling cinematography pulls the audience into the loose narrative, along with "no shortage of striking images," says Josh Slater-Williams of Little White Lies, adding "a rewatch may be rewarding."

Playing Los Angeles, New York, Atlanta, Chicago, Dallas, Cleveland, Detroit, Houston, Miami, and Tampa this weekend; expanding to limited screens on Aug 23. 
---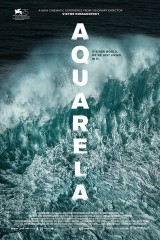 It's hard to sell a movie in which water is the central character, but in truth, Aquarela is a cinematic odyssey to the four corners of the globe that examines the beauty and raw power of our planet's oceans, rivers, and seas. It serves as a stark reminder that, despite our tendency to assume humans are the most important things on the planet, mother nature and Earth's most precious element are, in fact, the real rulers of the globe. From the frozen waters of Russia's Lake Baikal to the beaches of Miami in South Florida, we follow director Victor Kossakovsky as he captures the multifaceted element. The film is currently rated Fresh at 100% and bolstered by a powerful score, with Noel Murray of AV Club noting that "when the Apocalyptica music is cranked up high, and the screen's awash in dazzlingly sharp, hypnotically swirling images of cresting waves, viewers could certainly take a moment to contemplate the importance of water to our global ecosystem."

Playing New York and Los Angeles this weekend; expanding to limited screens on Aug 23.
---
Fresh and Still in Theaters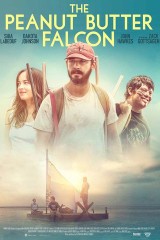 Spotlight Pick!

Last week on 17 screens in seven markets, Shia Labeouf's latest effort, The Peanut Butter Falcon, snagged one of the best per-screen averages of the year. When we spoke to LaBeouf recently about his performance in the Certified Fresh adventure, he confessed that he left the set "a changed man." Having seen the hilarious and heartwarming tale, we can see why the actor and critics are calling it a transformative experience. Lead actor Zack Gottsagen first met co-directors Tyler Nilson and Michael Schwartz at a retreat for young adults with Down syndrome and told them he wanted to be a movie star. When they replied that it was difficult for an actor with disabilities to be cast in feature films, Gottsagen quipped back: "Well why don't you go make a movie for me?" And they did. The result is a modern-day Huckleberry Finn, centered on a drifter and a young man with dreams of wrestling stardom whose lives intersect and are changed forever.

Playing New York, Los Angeles, Dallas, Austin, Denver, Charlotte, Salt Lake City, San Francisco, and Washington DC this weekend; expanding to more screens on Aug 23.
---
Along with…
---
New Indie Trailers
Running With the Devil (2019) 24% – Nicolas Cage and Laurence Fishburne take the lead in this drug-fueled action thriller.
---
A Million Little Pieces (2018) 27% – James Frey's controversially fictional "memoir" A Million Little Pieces gets a big-screen adaptation from acting and directing couple Aaron & Sam Taylor-Johnson.
---
Parasite (2019) 99% – A 2019 Palme d'Or-winning socio-political satire from Snowpiecer director Bong Joon-ho about privilege, poverty, and their mutual co-dependence.
---
Honey Boy (2019) 95% – Shia LaBeouf recounts his tumultuous childhood and drug-addled adolescence playing employer and caretaker of his dysfunctional father.
---
Like this? Subscribe to our newsletter and get more features, news, and guides in your inbox every week.