Thanks to The Late Late Show with James Corden, we finally have a proper look at next February's Dark Phoenix. With its ominous cover of "The End" and apocalyptic imagery, the trailer seems to be making a very pointed comment about the future of the X-Men film series at 20th Century Fox. Both Dark Phoenix and next August's The New Mutants could very easily be the last pictures in the series that Fox initiated with 2000's X-Men. And if that is the case, Dark Phoenix – which dropped "X-Men" from its title – appears ready to send the whole enterprise off on a very dark note.
But that darkness represents only one thing we learned from the trailer – here are six more tantalizing notes from Dark Phoenix.
---
(Quite) Frankly Great Uniforms
(Photo by © Twentieth Century Fox)
It only took seven films in the mainline X-Men series for the main team to finally adopt the traditional gold X-Men uniforms – Xavier's (James McAvoy) 1960s team used the look in X-Men: First Class – and boy do they look smart. The large golden X over the chests recalls the uniforms designed by artist Frank Quitely for writer Grant Morrison's run on the series in the early 2000s. Both wanted to take the characters back to their boarding-school roots and created a collegiate fashion line with the bold X-motif jackets tying the whole aesthetic together.
Here, they replace the more individualized uniforms glimpsed at the end of X-Men: Apocalypse. It would seem Xavier either wants to recall happier days with Magneto (Michael Fassbender) and Mystique (Jennifer Lawrence) or he wants to corral the group into a more unified frame of mind. Considering the movie X-Men have a habit of splintering, it is unlikely the uniforms will stop it from happening again, especially considering some of the subsequent images in the trailer.
That said, Quicksilver (Evan Peters), Nightcrawler (Kodi Smit-McPhee), Beast (Nicholas Hoult), Cyclops (Tye Sheridan), Storm (Alexandra Shipp), and Mystique look great in the new gear.
---
History Repeats Itself
(Photo by © Twentieth Century Fox)
Despite fundamentally altering the universe in X-Men: Days of Future Past, it seems Charles Xavier could not stop himself from making one fundamental mistake: altering Jean Grey (Sophie Tuner) as a child. In both the trailer and X-Men: The Last Stand, a young Jean Grey already possessed tremendous telekinetic abilities. And, in both cases, Professor X used his considerable telepathic talents to prevent her from accessing her full potential.
In The Last Stand, those powers proved to be advantageous to Magneto, but this time around, it appears the mysterious character played by Jessica Chastain will lead Jean toward the path of the Dark Phoenix. Also, it seems the Phoenix Force will finds its way to Jean via that untapped potential which Apocalypse (Oscar Isaac) glimpsed briefly in the previous film.
Then again, the trailer also makes the case that Jean was just born bad. As Magneto puts it: she "came here for permission" to let loose. But how much of that is Jean and how much of it is the Phoenix inside her?
---
The World Is One the Brink (Again)

(Photo by © Twentieth Century Fox)
It wouldn't be an X-Men movie without the world facing some sort of annihilation. In previous films, that threat was presented by Magento, who tried to turn senators into mutants, unleash an all-out war between humans and mutants, and even nuke Washington D.C. to start his revolution. He also allied with Apocalypse that one time, but he was more of a lackey in that situation than the mastermind of destruction.
This time, the threat will be external as aliens finally make their way into an X-Men film.
At first, it might seem strange to introduce aliens into the mix, but the X-Men have a long history with various cosmic factions back in the comics. The original Dark Phoenix Saga featured the Shi'ar Empire as they attempted to put Jean on trial for the Phoenix Force's crimes. We seriously doubt we'll see Jean destroy a planet of broccoli people – one of the more infamous moments in the comics – but an extraterrestrial threat changes the scope of X-Men pictures.
Curiously, Dark Phoenix represents the same move away from the civil rights struggle to world-ending threats the X-Men books experienced in the 1990s. Of course, the pendulum often swings back to the struggle and one imagines it will again when Marvel Studios takes control.
---
Beast Switches Sides
(Photo by © Twentieth Century Fox)
Late in the trailer, as Xavier says "don't do this," a brief shot reveals Beast has finally changed sides and joined Magneto. We also see Hank in his non-animal form blaming Xavier for another mistake. This reckoning between the three characters has been a long time coming. Beast was a member of the original X-Men team in the 1960s – and he seems to have aged hardly day in the 30 years between First Class and Dark Phoenix – and caught up in the initial struggle between Charles and Erik's philosophy. But it seems this time, enough is enough for The Beast.
"You're always sorry, Charles," Magneto says at one point. It seems to be a sentiment finally shared by Hank if that scene in the kitchen is anything to go by. We imagine something significant will push Hank to the breaking point. And considering the film's ties back to First Class, it may revolve around the other remaining character from that film. (More on that in a moment)
It is always possible these three old friends will make peace before the end. It's been known to happen in X-Men films before and it could be memorable reconciliation, particularly if this really is the end of the film series.
---
Magneto Never Finds Peace
(Photo by © Twentieth Century Fox)
Despite an earnest attempt to walk away from violence and discord after X-Men: Days of Future Past, it seems Erik Lehnsherr can never find peace. This time around, we see him in some sort of camp away from thoughts of Brotherhoods and working with Sabertooth, but he always keeps that trusty helmet close by. Throughout the series, it has come to represent the character's anger and his separation from Xavier – indeed, the notion that it can block Charles's telepathic scans is one of the most prominent holdovers from the first X-Men film – but in its few glimpses in the new trailer, it seems to also represent the life Magneto wishes he could leave locked in an old chest.
But violence is baked into the X-Men premise and Magento's way of life. Perhaps he, more than Jean, needed to reason to take up the helmet and fight again. And, it seems, Jean gave him one.
---
Pay No Attention To That Casket
(Photo by © Twentieth Century Fox)
This may constitute a spoiler, so tread carefully.
We repeat: Potential Spoiler Alert. 
The prominent use of funeral footage and a casket suggests someone other than Jean Grey will die in the film. And we're betting it will happen shortly after the film begins.
In the pages of Uncanny X-Men, Jean unequivocally died during a mission into space. She eventually returned when the Phoenix Force took possession of her body. The official description of Dark Phoenix states she survives the mission. So if Jean isn't in the casket glimpsed in the trailer, who is it?
Our guess is it's Mystique based on that shot of Beast cradling her. But if this is the end, it could be just about anyone. Well, maybe not Cyclops. They already tried that in The Last Stand and it didn't work.
Nonetheless, the funereal tone of the whole trailer suggests Fox made a calculated decision to present this as a memorial for nearly twenty years of X-Men pictures. Even if the shots are from late in the film and Jean is in that casket, the X-Men as we've known them may also lay to rest beside her.
---
Dark Phoenix is in theaters February 14, 2019
#1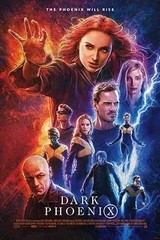 Critics Consensus:
Dark Phoenix
ends an era of the
X-Men
franchise by taking a second stab at adapting a classic comics arc -- with deeply disappointing results.
Synopsis:
The X-Men face their most formidable and powerful foe when one of their own, Jean Grey, starts to spiral out...
[More]