All the major theatrical releases opening in theaters this weekend are rated R — and are mostly Rotten — so we bring to you Christy Lemire's analysis on the kid-friendlyness of Little Boy, which was released on DVD earlier this week. Read on for more details.
---
NEW ON DVD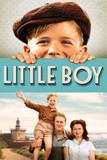 Rating: PG-13, for some thematic material, including violence.
This is a lot more intense, mature and violent than its wholesome marketing might suggest. It's a faith-based movie that features war footage, a hate crime and racial epithets against a Japanese man, shootings, a major death and a funeral. It's also terrible, so even if it's one of the few choices available to you, avoid it if you can. Jakob Salvati stars as a diminutive 8-year-old named Pepper, who's mercilessly teased by bullies in 1940s small-town California. When his father and only friend (Michael Rapaport) goes off to fight in World War II, Pepper performs a series of charitable acts in hopes of bringing him back at the suggestion of the town priest (Tom Wilkinson). It's all meant to be heartwarming but it may be too disturbing for your own little boy or girl.