Twenty five years ago, Tim Burton released one of the greatest Christmas movies of all time – and perhaps the greatest kid-friendly Halloween flick. The Nightmare Before Christmas, which Burton produced and Henry Selick directed, is cherished by the now thirtysomethings who grew up on it and worshipped by the Millennials who came after them and found, in Jack Skellington, an angsty, spindly brooder they could relate to (and plaster their jackets and backpacks with).
And it was almost not meant to be.
When first presented with the idea of adapting Nightmare — which had originated as a lengthy poem written by a 24-year-old Burton – Disney was hesitant. The kids were used to singing crustaceans and fish-tailed princess, not tearaway-faced clowns and pumpkin kings, whatever they were. Eventually, though, the studio would relent, and they've never turned back. The film opened in limited release on October 13, 1993, before going wide and becoming sleeper hit at the box office and the toy counter. More than just a merchandising machine, though, A Nightmare Before Christmas has become a holiday classic, recognized as a landmark in animation, and arguably the first claymation blockbuster. It's been re-issued multiple times, and is set to sell out theaters again this month with a series of special anniversary screenings, including a set of double-feature screenings with Hocus Pocus for members of the D23 fan club. How has Burton and Selick's film had legs as long as its troubled protagonist's? We've got five reasons right here.
---
That Danny Elfman Score
(Photo by @ Buena Vista Pictures/courtesy Everett Collection)
Henry Selick said early in production there wasn't even a script – "We had three songs by Danny Elfman but no real screenplay," he told the Daily Beast's Marlow Stern in 2013. One of those songs was "What's This?", which is the first sequence the filmmakers worked on, even as the screenplay was being completed. Still, if anything could inspire enough confidence to start production on something as laborious as a stop-motion film without a script, it would be Elfman's Nightmare songs. Nearly all have become classics of some sort – anthems for moody teens ("Sally's Song"), karaoke favorites ("Oogie Boogie's Song"), some even holiday radio fixtures ("What's This?"). It's proven a lucrative project for the former Oingo Boingo frontman. Elfman voiced Jack Skellington in the movie (when singing) and continues to rake in the bullion traveling the world and performing the soundtrack in live concerts (we saw him in Adelaide, Australia, with a symphony orchestra and he was spectacular). In 2006, on the wave of all that Hot Topic Nightmare love, the soundtrack was re-issued with covers by the likes of Marilyn Manson and Fiona Apple, and a complete covers version, Nightmare Revisited, was released in 2008. The latter features a Korn cover of "Kidnap the Sandy Claws" that is all nightmare, no Christmas. You've been warned.
---
It's So Freaking Beautiful
(Photo by @ Buena Vista Pictures/courtesy Everett Collection)
The painstaking work that went into crafting The Nightmare Before Christmas is the stuff of movie legend: the 20 sound stages the filmmakers used; the 400 different Jack Skellington heads deployed to convey emotions ranging from "I Jack the Pumpkin King!" fury to "What's This?" wonder. And it's work that pays off. Burton and Selick's Halloween Town is a kind of ode to German Expressionism, all gray and winding and surreal, while Christmas Town is a freakish, exaggerated take on the visuals of Rankin/Bass. Perhaps the most indelible image from a movie filled with indelible images – Oogie's unraveling, a snake scarfing down a Christmas tree – is the "spiral hill," which rises, and unspools, somewhere outside of both towns and is where so many of the movie's key moments take place.
---
And It's So Freaking Dark
(Photo by @ Buena Vista Pictures/courtesy Everett Collection)
Disney was reluctant to touch Nightmare. They had toyed with making it a TV holiday special in the 1980s, when Burton was working there as an animator, but balked because it was considered a touch too weird. When the Mouse House did eventually agree to produce it, they distributed it through Touchstone Pictures, which typically distributes Disney-made films with darker edges. "Their biggest fear, and why it was kind of a stepchild project, was they were afraid of their core audience hating the film and not coming," Selick told IGN in 2006 while promoting a 3D re-release of the movie. "But it was very much, 'We don't have high expectations. It's kind of too dark and too scary.'" Thematically, there's no doubt that the film is several shades darker than most of what Disney was releasing at the time (though The Lion King's big Mufasa moment and Scar's "Be Prepared" would come close a year later). There was death and bogeymen, the vicious kidnapping of Sandy Claws, and shrieking suburban children. Of course, what Burton, Selick, and Elfman knew was that it was precisely this darkness that would capture the imaginations of kids who loved the costumes, imagery, and stories of Halloween. And who had grown up watching horror movies on TV and VHS. The special darkness the filmmakers conjured was essential to the movie's overall message, too. Here was a film that was all about embracing your differences, your otherness, your oddness; and here was a movie that itself looked and felt as different from the rest of what was being offered in cinemas as its central character had felt in Christmas Town. Like Jack, it would eventually be heartily embraced.
---
It's a Really Moving Love Story
(Photo by @ Buena Vista Pictures/courtesy Everett Collection)
If Skellington was looking for another holiday to take over, he could do worse than Valentine's Day. The terrifying pumpkin king reveals his mushier side in Nightmare not just through his fascination with Christmas, but through his adoration of Sally, and their love story anchors the movie. Jack is a less unlikely source of Sally's affections – and those of goth girls all across the world – than you might initially think. He's a kind of manic pixie dream ghoul: sensitive, inventive (those chalkboard formulas!), and has a good heart; plus he knows how to dress. And don't be deceived by Sally's lilting voice, courtesy of the great Catherine O'Hara – she's no sewn-together Snow White. Sally proves herself time and again to be practical, brave, and resourceful, whether escaping the clutches of her mad creator or saving Sandy Claws from Oogie Boogie with a distracting — and, for a Disney flick, disarmingly sexy – leg. Jack's the wild dreamer, the frustrated genius; Sally's the level-headed partner ready to catch him when he eventually, and literally, falls. Plain as anyone can see, they're simply meant to be.
---
IT OPENED THE STOP-MOTION FLOODGATES
(Photo by ©Focus Features/Courtesy Everett Collection)
---
Do you still watch Nightmare every Christmas – and Halloween? Ever dressed as Jack or Sally? Still remember the lyrics to "This is Halloween"? Share your Nightmare Before Christmas memories below.
The Nightmare Before Christmas was released October 13, 1993
#1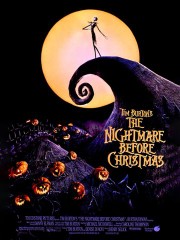 Critics Consensus:
The Nightmare Before Christmas
is a stunningly original and visually delightful work of stop-motion animation.
Synopsis:
The film follows the misadventures of Jack Skellington, Halloweentown's beloved pumpkin king, who has become bored with the same annual...
[More]