The latest movies, new original series, and other new releases coming to Disney's streaming service this month include a healthy mix of family content that's sure to appeal to viewers of all ages, from animated classics like Tarzan and Schoolhouse Rock! to nature series like Howie Mandel's Animals Doing Things to continuing episodes of the behind-the-scenes docuseries Disney Gallery: Star Wars: The Mandalorian.
Plus, there's also 2010's Percy Jackson & the Olympians: The Lightning Thief and the live-action remake of 101 Dalmatians, and last but certainly not least, the world premiere of Artemis Fowl, which makes its way to Disney+ in lieu of a previously scheduled theatrical release.
Read on for the full list of titles, starting with a few recommendations to look out for at the top.
---
HIGHLIGHTS
---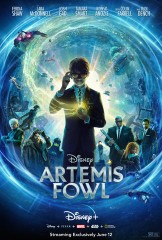 Description:
 Director
Kenneth Branagh
brings the popular children's fantasy book series to life in this adaptation, which stars newcomer
Ferdia Shaw
as the title character, a 12-year-old criminal genius who kidnaps a fairy and forces it to help him locate his missing father (
Colin Farrell
). The supporting ensemble cast includes
Judi Dench
,
Josh Gad
,
Hong Chau
,
Nonso Anozie
, and more, and the film moved to Disney+ after it was initially pulled from its theatrical release due to the coronavirus pandemic, so expect big-screen action and special effects.
Premiere Date: Friday, June 12, 2020

---
---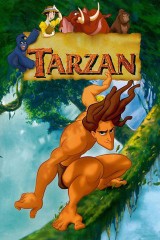 Description:
 The last film of the so-called Disney Renaissance of animated features that began in 1989, 
Tarzan
retells the classic Edgar Rice Burroughs story about a human child who was raised in the jungle by a family of gorillas and ultimately must find his place in the world when he encounters a group of explorers.
Tony Goldwyn
voices Tarzan,
Minnie Driver
is Jane, and
Glenn Glose
,
Lance Henriksen
, and
Rosie O'Donnell
play supporting roles. Meanwhile, Phil Collins' soundtrack for the film became a success, and co-director
Chris Buck
 would later go on to stamp his name on another little Disney hit called 
Frozen
.
Critics Consensus: Disney's Tarzan takes the well-known story to a new level with spirited animation, a brisk pace, and some thrilling action set-pieces.
Premiere Date: Friday, June 26, 2020

---
---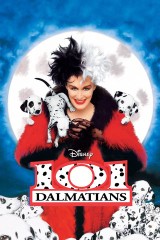 Description:
 Before
Johnny Depp
became
the Mad Hatter
, before
Angelina Jolie
humanized
a misunderstood sorceress
, and before
Will Smith
went blue to play
a genie
,
Glenn Close
perfectly embodied Cruella De Vil in 1996's 
101 Dalmatians
, which was only Disney's second attempt at a live-action remake of one of their classic animated films. Critics largely may not have responded so positively to the rest of the film, but Close's performance as the iconic villain who wants nothing more than a spotted coat made of dog fur is memorably delicious. With
Emma Stone
set to take on the same role in a new, 
Maleficent
-styled adaptation, it's a great time to catch up on Disney's first shot at it.
Critics Consensus: Neat performance from Glenn Close aside, 101 Dalmatians is a bland, pointless remake.
Premiere Date: Friday, June 19, 2020

---
---
Available 6/5
Alaska's Grizzly Gauntlet: Season 1
America's Greatest Animals
Chasing the Equinox
Howie Mandel's Animals Doing Things : Season 1-2
Secrets of Wild India: Season 1
The Greeks: Season 1
Weird but True!: Season 1-2
Wild Hawaii: Season 1
()
Be Our Chef: Season 1 (2020) – "The Spectacular Finale"
Disney Gallery: Star Wars: The Mandalorian: Season 1 (2020) 100% – "Visualization"
Disney Family Sundays: Season 1 (2019) – "101 Dalmatians: Onesie"
One Day at Disney: Shorts: Season 1 (2019) – "George Montano: Plasterer"
It's a Dog's Life With Bill Farmer: Season 1 (2020) – "Disaster Rescue Dogs & A Dog Mayor"
Disney Insider: Season 1 – "Artemis Adventure, Taste of Disney, Runaway Railway"
---
Available 6/12
Mighty Med: Seasons 1-2
The Liberty Story
The Story of the Animated Drawing
Walt & El Grupo
Artemis Fowl (2020) 8%
Disney Gallery: Star Wars: The Mandalorian: Season 1 (2020) 100% – "Score"
It's a Dog's Life With Bill Farmer: Season 1 (2020) – "The Surfing Corgi & Bee Dogs"
Disney Family Sundays: Season 1 (2019) – "Winnie the Pooh: Bag Toss"
One Day at Disney: Shorts: Season 1 (2019) – "Scot Drake: Imagineering Creative"
---
Available 6/19
101 Dalmatians (1996) 41%
Big Sur: Wild California
Muppet Babies Play Date: Season 1
Schoolhouse Rock: Season 1 (1973) 100%
Tinker Bell and the Pirate Fairy
Disney Gallery: Star Wars: The Mandalorian: Season 1 (2020) 100% – "Connections"
It's a Dog's Life With Bill Farmer: Season 1 (2020) – "Stunt Dogs & Water Rescue Dogs"
Disney Family Sundays: Season 1 (2019) – "Monsters, Inc. Water Bottles"
One Day at Disney: Shorts: Season 1 (2019) – "Candice Valdez: Radio Disney Host"
---
Available 6/26
()
()
Percy Jackson & the Olympians: The Lightning Thief (2010) 49%
Raven's Home: Season 3 (2019)
Tarzan (1999) 89%
Tarzan II (2005) 33%
Into the Unknown: Making Frozen 2 – Series Premiere
It's a Dog's Life With Bill Farmer: Season 1 (2020) – "Detective Dogs & Truffle Hunting Dogs"
Disney Family Sundays: Season 1 (2019) – "Snow White and the Seven Dwarfs"
One Day at Disney: Shorts: Season 1 (2019) – "Marc Smith: Story Artist"
---
Thumbnail images by ©Walt Disney Co. courtesy Everett Collection, Nicola Dove/©2020 Disney Enterprises, Inc. All Rights Reserved,©Buena Vista Pictures courtesy Everett Collection