New Mutants Cast and Director: "It's Not Like Any Other Comic Book Movie"
Charlie Heaton, Blu Hunt, Alice Braga, Henry Zaga, and Josh Boone go deep on their genre-bending take on the Demon Bear saga.
---
TAGGED AS: comic, Comic Book, Disney, Marvel, movie, movies, San Diego Comic-Con, superhero, Superheroes, X-Men
The long-delayed and still highly anticipated New Mutants may have just won Comic-Con@Home 2020 with some massive reveals – including the first two minutes of the movie! – and the cast and director chased their mic-drop panel with an exclusive and extended chat about the movie with Rotten Tomatoes. Stars Charlie Heaton, Blu Hunt, Alice Braga, Henry Zaga, and director Josh Boone spoke with RT correspondent Karama Horne about the unique superhero movie's genre-bending influences – A Nightmare On Elm Street 3: Dream Warriors looms large, as does Buffy – as well as their personal connections to their characters, their love of the Marvel comics on which the film is based, and why they had to tell the terrifying Demon Bear saga.
The New Mutants is scheduled for release in theaters August 28, 2020. 
#1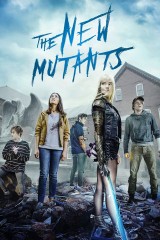 Critics Consensus:
Rendering a list of potentially explosive ingredients mostly inert,
The New Mutants
is a franchise spinoff that's less than the sum of its super-powered parts.
Synopsis:
Five teenage mutants -- Mirage, Wolfsbane, Cannonball, Sunspot and Magik -- undergo treatments at a secret institution that will cure...
[More]