(Photo by Merrick Morton/HBO)
Fans of Perry Mason the character may find themselves confused by the first few episodes of Perry Mason, the new HBO limited series. The gritty new show is less a "reboot," or even a "re-imagining," than a total overhaul of the character created by author Erle Stanley Gardner and immortalized on the small screen by Raymond Burr in the 1950s-60s TV series and later TV films. The famously sharp criminal defense lawyer isn't even a lawyer as the HBO series opens in L.A. in 1931; instead, played by Emmy winner Matthew Rhys, he is a private investigator more comfortable sneaking into Hollywood starlets' homes to snap scandalous photographs than he is in a courtroom.
HBO's Mason will eventually suit up and stand before the jury as the series progresses, but even then, this Mason is a different beast. Where the lawyer of the novels and beloved TV show was a mostly blank slate, Rhys's Mason is a WWI veteran struggling with a crisis of faith, a battle to hold onto his family's farm, and a drinking problem. (The series is set during the tail-end of Prohibition, but no one is adhering to the laws of the day.) Rhys, who joined the project after co-executive producer Robert Downey Jr. pulled out of the lead role, says it's these "cracks" in the character that drew him in. "Life serves up plenty of cracks," Rhys told Rotten Tomatoes, "and that's where my interest certainly lies."
While the new series may not look much like a traditional Perry Mason series, it does bear the signatures of a traditional HBO prestige drama. It is a single serialized story, lavishly produced, and packed with scene-stealing performances from some big names: Rhys is already earning acclaim as the brooding P.I.-cum-lawyer; John Lithgow shines as his boss and mentor; and Orphan Black star Tatiana Maslany plays evangelical preacher – and potential heretic – Sister Alice, whose church becomes increasingly entwined with the series' central case of a mother being tried for the kidnapping and murder of her baby boy.
Gotham standout Chris Chalk is on hand too as a reimagined Paul Drake, a P.I. in the novels, here a Black beat cop torn between his loyalty to a corrupt institution that both employs and spurns him, and Mason's pursuit of true justice. Chalk's character and plotline, navigating racism both explicit and systemic – almost 100 years ago – feels disarmingly relevant as the series premieres to a nation protesting police brutality against Black Americans.
Ahead of the series' first episode, Rhys spoke with Rotten Tomatoes about the connection between Perry Mason and the moment we're in, why "HBO-ifying" the famous lawyer was the best approach for a modern reboot, and whether he would ever return to the role that won him an Emmy, Russian spy Phillip Jennings on FX's The Americans.
---
Joel Meares for Rotten Tomatoes: I was reading an interview you gave the New York Times where you had said that your first reaction to hearing that they were rebooting Perry Mason was: "Oh God, why?" Can you talk a little bit about that reaction, and tell us what it was that changed your mind?
Matthew Rhys: Yeah, it's a relatively simple answer in that I got this message from my agent saying, "I want to talk to you about a remake of Perry Mason." And then I thought, "God, why do you want to remake Perry Mason?" [I was] thinking it would just be some generic, weekly, case-solved, man-in-a-good-suit… not much depth was my imagining of it. You know what I mean? All great justice, or a servant of justice, et cetera. Then when he got back to me, he said, "Actually HBO want to make it," and I went "Oh, it's not going to be a remake, because HBO will HBO-ify it." Then when I went and met with team Downey [Susan Downey and Robert Downey Jr., wife-and-husband co-executive producers], the producers on it and the writers, it was very apparent very quickly that this wasn't a remake, but a re-imagining, and a redefining of who I think we believe Perry Mason is.
(Photo by HBO)
Mason's been such a blank canvas in so many other iterations. Here, as you say, he's been "HBO-ified": he's divorced, he's drinking, he's having a crisis of faith, he was in the Great War. Why the decision to fill in the blanks? And why did the team feel modern audiences would be drawn to this version of Perry Mason?
Rhys: When I met with the writers, they said, "Look, our hope is that we've loaded this guy's bases and that he's cracked." You know, that's what they were interested in portraying and that's certainly part of the large attraction for me – seeing someone with some very real universal issues that you can relate to. Like I said, I wasn't interested in the great servant of justice. I liked how fallible he was, how kind of gray his life is. It's not that it's depressing, but it's certainly not black and white. He lives in the cracks.
All of the elements they heaped upon him, I think there's a foundation, so they come from some very real places. Certainly, his time as a veteran and through the war has informed enormously who he is when we find him. His family, both his own immediate family and his generational family problems, on top of everything else, there were just a number of things I could relate to, or I could see that would be interesting to watch and certainly play.
We don't get the Mason that I think some audiences might be expecting – the clever, inspirational trial attorney – until later in the series. And there is one sequence which really stands out, when you really give us old-school Perry Mason with a big courtroom reveal, but it's kind of a bait-and-switch. Was that fun to play? To have a moment where you could be the heroic lawyer, even if it wasn't necessarily truly happening in the narrative? 
Rhys: Yes, I loved how the whole project was approached. We had to be careful because we were working with Erle Stanley Gardner's estate. It wasn't just carte blanche, you couldn't be willy-nilly and say, "We want to give you this, this, and this." Things have to be okayed, and they were as game for it as everyone else, which was refreshing. But yeah, there was a sense of mischief in that you knew there's a certain generation of people probably tuning in hoping to see one thing and going, "Oh, well, I wasn't expecting that." And there was an element, possibly, a smug element of the inside joke going, "Everyone might be expecting this, but we're not going to do it." There was fun to that as well.
(Photo by Merrick Morton/HBO)
It's impossible to talk about this show without talking about the time that it's premiering in – this is a show in which police violence, corruption, and racism is front and center. Was Ferguson and the Black Lives Matter movement alive in the conversation as you guys were developing this series, working out the plot and who the characters would be?
Rhys: Not as specific as you've outlined and certainly not as specific as what we're seeing at the moment. They're age-old issues that they were interested in showing. There's a number of reasons. I know Robert Downey Jr was interested in – and certainly with Paul Drake (Chris Chalk) – creating these outsiders who were kind of unified by that element. Los Angeles was always going to play a very interesting character in this piece. And at that time, there was this incredible thing happening where Black policemen were deployed to police their Black neighborhoods, but with White jurisdictions or White suspects, they didn't have the same equality as their White counterparts. So, it was this incredibly interesting, if incredibly fraught, time. Certainly nothing new, but sadly something that is still relevant in this day and age. That was something they did want to bring to the forefront.
Pivoting a little bit, I wanted to talk about Sister Alice (Tatiana Maslany) and Perry's relationship with her. But first of all, I just want to know how exhausted Tatiana was after delivering her incredibly lively sermons? I watched her thinking, "Holy s–t, I hope she only had to do one take."
Rhys: I don't know how she did that physically. The funeral scene was like two days – she did that sermon to 400 extras and she did not drop in any way in intention, clarity, focus, energy. It was like a feat of endurance to do that for two 14-hour days straight. I don't know how she did it. It's a testament to her.
(Photo by Merrick Morton/HBO)
When people watch the first couple of episodes, they may start to think, "Who is this person? What is the connection?" Because there are kind of parallel plots happening. Without giving the plot away, how would you describe their emotional and experiential connection? What's drawing these two characters to circle each other?
Rhys: I think they recognize in each other a number of things. They're kind of caught in their own set of circumstances, looking out. They've had a number of impositions placed upon them, constraints in a way. And, ultimately, they're very free-thinking, strong-willed people. Mason's stance on religion – possibly brought about from his own family upbringing but definitely because of the war – where he's kind of lost his religion, he views any kind of structured religion with great suspicion. So he is very wary of her. He very plainly says to her, "God left me in France." And thus begins, like you said, the circling, this cat-and-mouse where he's kind of going, "I think I've got your card lady." And she's kind of going, "Oh if only you knew the half of it." They're just very intrigued with each other, which I think is great. That is very often skirted, we had a very few scenes together. So that always keeps you dangling.
One of the other great relationships Perry has is with John Lithgow's E.B. Jonathan, his boss and mentor. Had you worked with John before? Were you a fan?
Rhys: No, no, never worked with him. Huge fan, though, even from Footloose. I remember thinking, "When was it I first saw John Lithgow?" And I'm like, "Oh my god, Footloose." And he's like an icon now. You realize why [he's an icon] when he comes on set, because he's such a pro, in a Herculean scale. He comes on, he's got all these ideas, he's so prepared. He's the real deal. I was awestruck when I saw him. It took me a moment to go, "Oh my god. I'm talking, sharing a screen with John Lithgow." It was a great moment.
(Photo by Merrick Morton/HBO)
You kind of get to impersonate him later in the series. Did you workshop that with him? Has he seen it?
Rhys: I don't think he's seen it – I hope he hasn't seen it. And I was worried because I came to love the man dearly and the last thing you want to do is create any kind of offense. So that worried me a bit. I watched so many YouTubes of him and went, "Oh god, I hope this doesn't offend." But we'll see…
You've said you didn't go back to read the source material or watch the original series starring Raymond Burr. Why did you approach it that way?
Rhys: I've done some book adaptations in the past and what I always do, I read the book and then I tend to bring things from the book into the script that script doesn't necessarily hold up, warrant, or justify. So this time I was like "I'm going to leave the books alone. I'm going to stick purely to the script." So that's the Bible, that's the linear point. So that there's no other influence.
And I know with my own self, if I was to start watching any Raymond Burr, whether I was aware of it or not, I would have unconsciously or subconsciously probably started imitating or stealing or mimicking or bringing something. Then if you found out, that would be embarrassing. So I didn't want any influences. I just wanted to kind of build him boots-up on my own.
(Photo by Patrick Harbron/FX/Everett Collection)
Finally, Rotten Tomatoes users are huge fans of The Americans. Is Phillip Jennings a character you would ever revisit either in a film or some other adaptation that continued his story?
Rhys: Oh my God, I would revisit Phillip in a heartbeat. One of the simple facts is there's so much foundation work gone in now. Whenever you picked him up, it would be just be so incredibly interesting. Whether you see them in Russia, whether you see them come back to try and find Henry, there's so much that you could mine from how it was left. I would do it in a heartbeat.
Is there a storyline you'd be most interested in pursuing, or a period that you'd be most interested in going to for Phillip?
Rhys: Yes. One of the things I thought was just heartbreaking, and Joe Weisberg the creator said something interesting [about this], is that there has to be a cost to what they've done. As much as we created antiheroes, there has to be a cost to what they've done. And the greatest cost is abandoning, leaving their children, which as a kind of new father, I just found incomprehensible. So I think as we joined Phillip, what he would want is to see his children again. And the coming down of the Berlin Wall, I wonder if that would be a kind of good kickstarter for him to try and find Paige and Henry again. And then have a shootout with Stan or something.
OK, but no more U2 or you'll break me again. That was too much.
Rhys: I know, I can't listen to that song the same any more.
---
Perry Mason airs Sundays on HBO from June 21, 2020.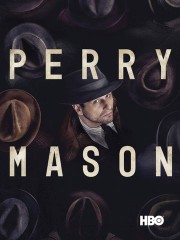 Critics Consensus:
Brimming with top notch performances and dripping in style,
Perry Mason
's compelling mystery mostly makes up for its messy storytelling.