The '90s were fertile ground for romantic comedies, and if Julia Roberts wasn't the decade's reigning rom-com queen – all votes for Meg Ryan and Sandra Bullock will be considered – she certainly has a share of the throne. Notting Hill, arguably her last great rom-com, remains a timeless, beloved urban fairy tale, and also one of the most successful rom-coms in history, earning $364 million worldwide ($116 million in the U.S.) since its release in North American theaters on May 28, 1999.
Notting Hill re-teamed screenwriter Richard Curtis (Love Actually) with his Four Weddings And A Funeral star Hugh Grant, whose chemistry with Roberts (in their only on-screen appearance together) is so off-the-charts it makes you buy the wish fulfillment fantasy that's at the heart of Notting Hill's appeal: that an A-list Hollywood star could fall in love with an ordinary, working-class Englishman.
Roberts' fierce energy, radiant smile, and quick-witted intelligence have had audiences swooning since she burst on to the scene as the hooker-with-a-heart-of-gold in 1990's Pretty Woman. The star recently told Buzzfeed that she's done making romantic comedies, and so in honor of her legacy, and to mark the anniversary of her best reviewed rom-com, Notting Hill, we're paying tribute to her rom-com legacy. In order of Tomatometer, of course.
---
(Photo by Courtesy the Everett Collection)
Did You Know… Julia Roberts reportedly turned down the lead role (which went to Catherine Zeta-Jones) to play the supporting role.
Roberts plays: Kiki, assistant to her mega-star sister Gwen (CZJ), whose estranged actor husband Eddie (John Cusack), is falling in love with Kiki.
Meet Cute: Alas, none – Kiki's already well acquainted with her brother-in-law.
Best Line: "That woman you saw by the pool, that woman you just have to spend the rest of your life with… that was me."
Memorable Sidekick: None, but Billy Crystal as a seasoned, world-weary Hollywood publicist named Lee Phillips has the role in spirit.
Romantic Obstacle: Will Kiki's sister will really let her take her man?
Wins Boy? Yes.
---
Did You Know… Eight years before the film's release, Roberts was a runaway bride in real-life, ditching actor Kiefer Sutherland at the altar.
Roberts plays: Maggie, a small-town woman whose penchant for leaving grooms at the altar draws the attention of big-city newspaper columnist Ike (Richard Gere).
Meet Cute: Ike inquires about Maggie in a beauty parlor.
Best Line: "There is a distinct possibility I am profoundly and irreversibly screwed up."
Memorable Sidekick: Maggie's sharp-tongued friend Peggy Flemming (Joan Cusack). "Not the ice skater," she tells Ike.
Romantic Obstacle: Fear of commitment.
Wins Boy? Yes.
---
(Photo by Courtesy the Everett Collection)
Did You Know… The script was originally written as a dark drama titled Three Thousand, in which (horrors!) Roberts' character died in the end. Somehow, director Garry Marshall re-imagined it as a modern-day Cinderella.
Roberts Plays: Vivian, a prostitute who (as in the original script) accepts $3,000 for a week as an escort to billionaire corporate raider Edward (Richard Gere).
Meet Cute: A lost Edward asks Vivian for directions on Hollywood Blvd.
Best Line: "You and I are such similar creatures, Vivian… we both screw people for money."
Memorable Sidekick: Vivan's pal Kit (Laura San Giacomo).
Romantic Obstacle: It's a business transaction, after all…
Wins Boy? Yes.
---
Did You Know… Roberts was not the first choice to be the lead – it was first offered to Sarah Jessica Parker, who was already committed to Sex and the City.
Roberts Plays: Julianne, a food critic trying to break up her best friend Michael's (Dermot Mulroney) wedding to young Kimmy (Cameron Diaz) because she's in love with him.
Meet Cute: None – they've already met.
Best Line: "Shut up! Now I love this man, and there is no way I'm gonna give him up to some two-faced, big-haired food critic!"
Memorable Sidekick: George (Rupert Everett), Julianne's unflappable gay pal.
Wins Boy? No (but she wins anyway, with a graceful wedding toast to the bride and groom).
---
Did You Know… Roberts told Vanity Fair she was anything but enthused when she first got the script (but before she read it). "How boring," she told her agent. "How tedious—what a stupid thing for me to do."  Luckily, she felt a little better once she read the script.
Meet Cute: Anna walks into William's bookstore on Portobello Road.
Best Line: "I'm just a girl. Standing in front of a boy. Asking him to love her."
Memorable Sidekick: Rhys Ifans as Spike, Grant's wacky Welsh roommate, the kind who flexes his biceps to paparazzi in his underwear.
Romantic Obstacle: Anna's moody movie-star boyfriend Jeff (an un-credited Alec Baldwin).
Wins Boy? Yes.
---
Notthing Hill was released in theaters in the U.S. on May 28, 1999.
Like this? Subscribe to our newsletter and get more features, news, and guides in your inbox every week.
#1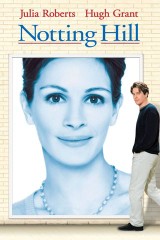 Critics Consensus:
A rom-com with the right ingredients,
Notting Hill
proves there's nothing like a love story well told -- especially when Hugh Grant and Julia Roberts are your leads.
Synopsis:
William Thacker (Hugh Grant) is a London bookstore owner whose humdrum existence is thrown into romantic turmoil when famous American...
[More]