The big movie this week is a giant monster throwback featuring a certain great ape, but is he too fearsome for little kids? Christy offers parents a rundown of what they should look out for in the blockbuster, then talks about Disney's latest triumph, Moana.
---
NOW IN THEATERS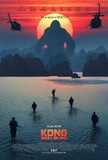 Rating: PG-13, for intense sequences of sci-fi violence and action, and for brief strong language.
If you like your monster movies big and dumb, you will love Kong: Skull Island. And I mean that as a total compliment. This action epic from director Jordan Vogt-Roberts has the spirit of a classic Ray Harryhausen film with the benefit of high-tech special effects. A team of explorers visits an uncharted island in the South Pacific in 1973 and finds more danger than they ever could have imagined. They include an expert tracker (Tom Hiddleston), a war photographer (Brie Larson), the head of a shadowy government agency (John Goodman), and a military team with a no-nonsense leader (Samuel L. Jackson). But you're not here for the people. You're here to see King Kong, who rules the island as a fearsome, deadly, but ultimately gentle giant. This is not a spoiler: If you've ever seen any incarnation of King Kong, you know he's misunderstood. But he might be super-scary for very little kids, especially as he battles the many other oversized monsters that happen to call this island home. (What's in the water surrounding this place anyway?) I brought my 7-year-old son and he thought Kong was a blast. It is pretty intense, though, with a lot of violence, gunfire, monster action and helicopter destruction, and not everyone makes it out alive. There's also quite a bit of language, including the one F-bomb you get in a PG-13 movie, courtesy of John C. Reilly. I'd say this is OK for viewers around 9 or 10 and older.

---
NEW ON DVD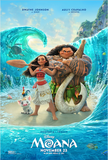 Rating: PG, for peril, some scary images and brief thematic elements.
If, for some reason, your kids haven't already seen Moana, now is the perfect time to show it to them. It's a great choice for the whole family — a two-time Academy Award nominee for best animated film and best original song for the girl-power anthem "How Far I'll Go." The latest musical extravaganza from Walt Disney Animation Studios features newcomer Auli'I Cravalho as the title character, a Polynesian teen who's next in line to lead her tribe. But she has dreams of leaving the island and traveling the high seas, despite her parents' wishes for her to stay put. She teams up with the demigod Maui (Dwayne Johnson) to return a magical stone to its rightful place, but the two run into a series of obstacles and enemies along the way. Most of Moana is upbeat and delightful. Even some of the villains are downright adorable, including an armada of pirate coconuts with mean, painted faces. But the ultimate enemy is a giant lava monster that rages and hurls fire balls at anyone who comes near. It's dark and hulking and may be too scary for the littlest viewers. Moana also must deal with the death of a beloved relative, but it's handled gracefully. But there's so much here that's worthwhile for boys and girls alike. Moana is about a strong, curvy girl who's assertive and independent but also kind and loyal. She puts herself in danger for the well being of her people and, in the process, finds her voice and the confidence to serve as a leader.