(Photo by @ Walt Disney Studios Motion Pictures, @ Marvel Studios)
Critics and fans alike are loving Avengers: Endgame. The movie is Certified Fresh at 95% and made a cool $1.2 billion at the global box office in its first weekend. It could very well turn out to be the biggest movie ever – and one of the most beloved. The key to its success? Critics say it's all about giving the MCU's loyal fans what they want. Eric Eisenberg of Cinema Blend was typical in his assessment, calling Endgame, "A wonderful gift to all those who have spent the last decade-plus emotionally engaging with the lives and adventures of these characters." It's stacked with "f–k yeah" moments and delights, the best of which make callbacks to early films in the franchise.
And one of those movies is more important than any other.
So, hear us out: Endgame owes much of its success to that under-sung hero of the MCU, Avengers: Age of Ultron. While one of the least popular entries in the MCU, and the lowest-rated Avengers flick on the Tomatometer at 75% (which is still not bad!), Ultron deserves credit as the foundation on which the entire second half of the MCU was built. And we're about to make a spoiler-filled case as to why, breaking down the story beats and relationships that Ultron established and that Endgame would use to such great effect – so be warned if you've not seen Endgame, Ultron, or both.
Major spoilers for Avengers: Endgame follow. 
---
Hulk Taking Control of Both Sides? It Started With Ultron.
(Photo by @ Walt Disney Studios Motion Pictures, @ Marvel Studios)
Around the time of Age of Ultron, there was still hope at Marvel that they would be able to make a deal for the Hulk and start a string of Hulk-only movies. Universal still owned the rights to the character for all standalone films, but behind the scenes, there were talks. When it became clear that a deal was not going to be forthcoming, Marvel spread the planned events for a standalone Hulk film throughout Avengers: Age of Ultron, Thor: Ragnarok, and the Infinity War two-parter. That's right, the seeds of the fantastic 'Hipster Hulk' payoff in Endgame were first sewn in Ultron. Think back to the Hulk/Banner in Ultron; he's held back from the team at times to make sure he doesn't do too much damage. Then, after a wave of the finger from Scarlet Witch, he wreaks havoc. Throughout Ultron, Banner is always questioning whether the team needs a 'code green.' He knows the Hulk's a powerful weapon, but he's terrified that he's not in control. By Endgame, we've finally seen the complete character arc from this struggle in Ultron, to the Hulk completely taking over in Thor: Ragnarok, to Banner's inability to summon the green guy in Avengers: Infinity War, to the eventual blend of the Hulk's might and Bruce's mind in the new movie. (The latest incarnation is a play on a storyline that first appeared in The Incredible Hulk #377, in which Banner finally has control of both the monster and his mind – adding hipster glasses with a huge cardigan is just a lovely bonus.)
---
The Start of a Beautiful and Pivotal Relationship: Wanda and Vision, a.k.a. WandaVision.
(Photo by @ Walt Disney Studios Motion Pictures, @ Marvel Studios)
The WandaVision relationship, as well as their powers, would become crucial to the MCU and especially to the Infinity Saga. It is also central to two of the saga's biggest moments: it's Vision's death in Infinity War that breaks our hearts, and it's Wanda's moment of revenge and power in Endgame that gives us such great feels. And that all started with Ultron. From her first encounter with Vision in Age of Ultron, Wanda is drawn to his mind; even when we still didn't know if he was good or evil, her first words about him were, "I can read him… his mind." Ultron introduces Wanda and her brother to his creation in the final stages of completion and even before his 'birth,' Vision's mind called out to her. Talk about a meet-cute.
When we finally learn Thanos' master plan to gather all the Infinity Stones, we realize quickly that Vision will be in danger. The Mind Stone is the origin of his powers – it's literally fused to his head using whatever tech stuff Shuri was talking about in Infinity War. That connection sets up what might be the Infinity Saga's ultimate and most painful sacrifice: Killing Vision in Infinity War as a last-ditch effort to thwart Thanos turns out to be a pointless and heartbreaking effort – with a twist of the Infinity Gauntlet, it is all undone. We watched them fall in love, beginning in Ultron, and witnessed their tragic end in Infinity War. When she appears in Endgame, summoning her powers in fury, it's a completely satisfying bookend to everything Ultron began.
---
Who is worthy? THE PERFECT SETUP FOR CAP'S BIG HAMMER MOMENT.
In one of the best scenes in Age of Ultron, the Avengers pal around with a few drinks at an afterparty. What is played as an entertaining comedic break, with the various members trying to lift Thor's hammer, Mjölnir, actually sets up one of the biggest moments of Endgame. Iron Man, War Machine, Hawkeye, and – comically – Bruce Banner all try to lift the hammer and prove themselves worthy. None are successful, but for one brief moment, Captain America tugs at Mjölnir, and it quivers. The movement wipes a confident smirk off Thor's face and signals that maybe Steve Rogers could one day wield the hammer. So it's no surprise in the finale of Endgame to see who is lifting Mjölnir. Thor even exclaims, "I knew it!" (It's actually another direct pull from the comics: Captain America is one of the few worthy enough to wield the hammer forged in the heart of a dying star – we're still getting goosebumps just thinking about it.)
---
Clint Barton, Hawkeye, and the farm.
According to Ultron director Joss Whedon, there were several creative differences between him and Marvel Studios during the filming of Age of Ultron, none more contentious than the debate over the trip to the farm to meet Clint's family. Marvel brass were apparently not into giving Hawkeye a familial backstory – having seen Endgame, we're thankful they lost on that one. The broken, singularly focused, vigilante Ronin that Hawkeye becomes in Endgame doesn't have the same resonance if we haven't spent time with his family. (And what about that opening scene?!) The device of the farm is also used to further establish the closeness between Natasha and Hawkeye, as in Ultron we learn that she is the only one with prior knowledge of the farm and his family life. These quiet moments raise the emotional stakes of the fight we see between Clint and Natasha in Endgame, as they do battle over who will sacrifice themselves for the Soul Stone. Without the Ultron setup, those stakes would not be so high.
---
Tony vs. Cap: A Civil War begins.
Civil War may have been the first battle between the Avengers, but some early, quiet shots were fired in Ultron. The argument on the farm during which Steve scolds Tony for creating, and especially for not telling him about, Ultron, is one many will point back to as the start of their fracturing. Then there is the physical fight between Captain America and Iron Man that happens later in Ultron, while Tony tries to finish his 'Vision'. Steve and Tony come to blows about it just before Thor harnesses lighting to finally birth Vision. The Russo brothers told us in our extended interview that the Avengers failed in Avengers: Infinity War because they were divided, and the cracks of that fatal divide first began to appear in Ultron. Even direct quotes from Age of Ultron reappear in Endgame with Tony repeating his warning, "We'll lose" – adding Steve's reply of "We'll lose together" is of little solace. That broken version of Tony, ripping his core from his chest, was perhaps even harder to watch than his heroic end.
---
Tony, always trying to get ahead of things.
(Photo by @ Walt Disney Studios Motion Pictures, @ Marvel Studios)
It starts and stops with Tony. The whole plot of Ultron comes from one driving force: Tony's fear of the next thing from space trying to annihilate the earth. "That up there," he quips, pointing to the sky and referencing the alien invasion of New York. "That's the endgame." And it was, in every sense of the word. Thanos does come to destroy the earth, and that threat is what the Avengers were created to stop. Tony, in creating Ultron, was trying to win a war before it started; during the wood cutting argument, Steve astutely reminds him, "Every time someone tries to win a war before it starts, people die." Before the events of Ultron, Tony created Veronica just in case they ever lost control of The Hulk (or a lullaby didn't work). The Hulkbuster back-up plan kind of worked. That drive to plan ahead, to be prepared, may have been a fatal flaw with Ultron, but it also allowed Tony to outsmart Thanos in Endgame. The glove Tony installs on his suit to steal the infinity stones is just that type of planning. He was reluctant to join the second fight and the visions of defeat he saw in Ultron still haunt him, but he was, in the end, able to use that fear to defeat their most formidable foe. It's a complete bookend to the character and his essential motivation.
---
(Photo by @ Walt Disney Studios Motion Pictures, @ Marvel Studios)
And there are so many smaller Ultron setups:
Ragnarok: Heimdall first teases Ragnarok and the fact they will lose in Thor's vision before he later heads to a cave to get more answers. Thor sees the Infinity Stones and the gauntlet for the first time. More breadcrumbs to our final battle.
Avengers Assemble: The "Avengers Assemble" line that Captain America calls out in the final battle was first teased in Ultron. A near synonymous tag line for Earth's Mightiest Heroes, it is a line comic book fans have been waiting to hear. We cut to credits before Cap could call it out in Ultron, but we finally get it in Endgame.
Wakanda: In a quick scene with Ulysses Klaw, we first hear reference what would turn out to be the key destination in the highest-grossing superhero movie ever – before Endgame. Vibranium, Andy Serkis with a Wakandan tattoo, and the rest is history.
(Photo by @ Walt Disney Studios Motion Pictures, @ Marvel Studios)
Captain America Back With Carter: We'd have to guess it's not a coincidence that Wanda's visions sent Captain America back to Agent Carter and the 1940s. Throughout the series, his greatest regret is not being able to share a life with her, thus making his ending as an old man "who stole time to get a life" all the sweeter.
"Fine, I'll do it myself": We meet a winking and silent Thanos in The Avengers, and we first spy the Infinity Gauntlet in Thor's Scarlet Witch vision. But it's not until Ultron's mid-credits stinger that we see our big baddie in full armor – voiced by Josh Brolin – snatching the gauntlet and saying, "Fine, I'll do it myself."
(Photo by @ Walt Disney Studios Motion Pictures, @ Marvel Studios)
The Avengers Facility: A small but noteworthy moment. The Avengers get a new home. The Avengers compound is basecamp going forward.
#1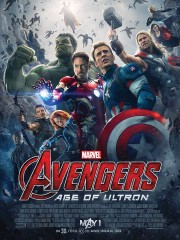 Critics Consensus:
Exuberant and eye-popping,
Avengers: Age of Ultron
serves as an overstuffed but mostly satisfying sequel, reuniting its predecessor's unwieldy cast with a few new additions and a worthy foe.
Synopsis:
When Tony Stark (Robert Downey Jr.) jump-starts a dormant peacekeeping program, things go terribly awry, forcing him, Thor (Chris Hemsworth),...
[More]
---
Like this? Subscribe to our newsletter and get more features, news, and guides in your inbox every week.