(Photo by Buena Vista Pictures courtesy Everett Collection)
After a very dark and financially difficult period during the 1980s, Walt Disney Animation Studios went through what we know now as "The Disney Renaissance," a decade full of critically and commercially successful animated films that changed our perception of not only what Disney films could do, but what animation itself could accomplish. With powerhouse musical numbers, moving stories, and innovations in the medium, Disney pumped out unforgettable movies for most of the decade. While everyone remembers The Little Mermaid, The Lion King, and Aladdin – and if they forgot them, the live-action remakes have surely jogged memories – there is one film that came out during this period that is as good as, if not better than, some of the big guns, but is seldom considered part of the Renaissance itself: A Goofy Movie.
Featuring a small-scale story that kids can see themselves in, an excellent portrayal of teenage life and father-son relationships, and, crucially, a soundtrack filled with earworms to rival the work of Rice and Menken, the movie has something for everyone. For its 25th anniversary, we're going to stand above the crowd and shout out loud why A Goofy Movie deserves to be considered one of the big players in the Disney Renaissance.
---
ITS SMALL-SCALE STORY IS A REFRESHING CHANGE – AND MOVING AS HELL
(Photo by Buena Vista Pictures courtesy Everett Collection)
Released in April of 1995, A Goofy Movie arrived on the back of several high-concept movies like The Little Mermaid, The Lion King, Aladdin, and Beauty and the Beast, the latter of which earned an Oscar nom for Best Picture. Compared to the Shakespearean tale of a lion cub having to fight to regain his crown or the fantastical story of a genie in a bottle granting wishes, or pretty MUCH everything about Beauty and the Beast, Goofy's story was decidedly low-key: A single dad plans a fishing trip to connect with the teenage son who's drifting away from him.
A Goofy Movie doesn't have a villain with grand designs to rule Pride Rock/Agrabah/the Ocean. Indeed, the film stays focused pretty much on Goofy (Bill Farmer) and his son Max (Jason Marsden, with Aaron Lohr as his singing voice) as they take a road trip just like they used to when Max was a kid. There is no outside force trying to ruin their lives or even their trip. Instead, the emotional weight of the movie lies in the fleeting relationship between father and son – the former who wants his son to remain a young kid while his son wants nothing more than to be treated as a young man. The tears you'll feel by the end are enough evidence you don't need an epic stampede to craft a beautiful and moving tale.
---
IT DARED TO BE CONTEMPORARY BOTH IN STYLE AND IN MUSIC
(Photo by Walt Disney Pictures)
Where the vast majority of Disney animated films at the time were either period pieces or set in fantasy worlds, A Goofy Movie is the rare film that looks and feels of its time. Even if it features anthropomorphic dogs, the film screams '90s, with characters wearing ripped jeans and cropped tops; as Austin Williams wrote for Vice, Max's look is undeniably hip-hop, with an oversized hoody that "might as well have read 'Hilfiger' across the front." The '90s feel extends not only to the look, but the sound of the film.
The soundtrack for A Goofy Movie mirrors the push and pull of Max and Goofy's relationship: the songs that Goofy takes part feel more like traditional Disney; the songs Max is interested in are all about R&B. On the Goofy-led side, Jack Feldman and Tom Snow wrote and composed "On the Open Road," which includes a vocal ensemble and skews folk, and "Nobody Else But You," the duet ballad that serves as the movie's emotional crux and is the closest to the Broadway-heavy soundtracks of other Disney Renaissance movies.
But what makes A Goofy Movie feel memorably of its time are the other two songs in the movie, the tunes that are used to show Max becoming his own man and which are entirely rooted in the mid-'90s. Right after the High School Musical-meets-Grease number "After Today," which gives a '90s rock musical feel to Disney's usual "protagonist walks through town as everyone joins in song" number, comes the bombastic, moonwalk-dancing pop power anthem that is "Stand Out."
This is even reflected in the use of two (well three if you count "Lester's Possum Park") teams working on the score: Feldman and Snow writing for Max and Goof, and the team writing for the actual star of the film: Powerline.
---
IT GAVE US AN ANIMATED SUPERSTAR AND A FINALE WE CAN'T FORGET
(Photo by Walt Disney Pictures)
The first time we see the character of Powerline, he comes in the form of a cardboard cutout in a record store: a Michael Jackson-meets-Prince-meets-Bobby Brown figure with a three-line fade and an otherworldly space suit who's meant to be the biggest star in the world of the film. Even though we only meet the real thing towards the end of the film, seeing Max moonwalking his way through the school's auditorium while lip-syncing "Stand Out" as his classmates lose their minds tells us everything we need to know about the singer.
According to Vice, when Disney set out to make A Goofy Movie, they had intended to cast Bobby Brown in the role of Powerline, which makes complete sense: After the success of "My Prerogative" and Ghostbusters II hit "On Our Own," Brown was at the height of his career when the film was in development. But by the time the film's production was coming to an end, Brown's drug and alcohol problems led to the singer being replaced by a relatively less known Tevin Campbell.
Campbell had already risen in popularity rather quickly. His debut album was produced by Prince and Quincy Jones, and it became certified platinum in 1994. Campbell had also appeared in Prince's sequel to Purple Rain, as well as an episode of The Fresh Prince of Bel-Air, but it was with A Goofy Movie that the world was gifted the unique blend of R&B sensibility and teenage appeal. Speaking with Forbes, Campbell recalls seeing the songs already written out before he was cast. "I did some dance moves at the green screen," he said, though he doubts that they based Powerline's dance moves off of him. Powerline's songs were written and composed by Roy Freeland and Patrick DeRemer, and produced by David Z, who also engineered Prince's "Purple Rain."
(Photo by Walt Disney Pictures)
When we finally see Powerline on screen, he radiates swagger. In the film's most bombastic, balls-to-the-wall music number, which sees Goofy and Max on stage with Powerline and using Goofy's fishing moves as dance moves, the incredibly catchy hook of "I 2 I" sneaks itself into your brain and carves a nest there. And for many, it's stayed there for 25 years. The melody sounds straight out of a power anthem from the late-'80s to mid-'90s, the lyrics are empowering, and paired with the stadium-filling stage show that Disney's animators create, it makes for a thrilling climax. And one with emotional payoff: father and son are finally dancing to the same tune.
The concert may not have the gravitas of a beast poetically returning to human form, or a new cub being foisted into the African sky, but for many Disney fans it packs almost as much punch. And it is just one of the reasons A Goofy Movie may be the strangest thing Disney put into theaters during its 1990s Renaissance, but also one of its best.
---
Where You Can Watch It Now
FandangoNOW (rent/own), Amazon (rent/own), Disney+ (subscription), Google (rent/own), iTunes (rent/own), Vudu (rent/own)
---
A Goofie Movie was released on April 7, 1995.
#1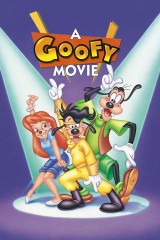 Critics Consensus:
A Goofy Movie
offers enough of its titular ingredient to satisfy younger viewers, even if most parents will agree that this beloved character deserves better.
Synopsis:
Though Goofy always means well, his amiable cluelessness and klutzy pratfalls regularly embarrass his awkward adolescent son, Max. When Max's...
[More]