David Gordon Green's Halloween premiered at the Toronto International Film Festival this weekend, and the first critical verdicts are in. So far, so good, with 14 reviews counted and a current Tomatometer score of 93%. Many are calling the film, a direct follow-up to John Carpenter's 1978 original (forget every bit of lore that's been canonized in between), "the best Halloween sequel ever," and the extended standing ovation for Green, co-writer Danny McBride, producer Jason Blum, Jamie Lee Curtis, and the rest of the cast who came on stage when the credits rolled, suggests that fans – who make up the bulk of TIFF's Midnight Madness audience – agree.
It's not all critical treats for the movie, though – a number of reviews have a problem with a Dr. Loomis-esque new psychiatrist – and it will be interesting to see how the next batch of critics to see the film take to the witty, very Danny McBride banter spoken by Haddonfield's latest crop of ready-to-kill teens. For now, though, here is what the early reviews are saying:
---
Just how badass is Jamie Lee Curtis as Laurie Strode?
…the movie would be a harmless, discardable remix of standard horror notes if not for Curtis, who charges through the movie as if she never stopped running four decades back.
– Erik Kohn, IndieWire
Curtis plays one of the toughest, most combat-ready grandmas ever to grace the screen, a lady who can get tossed over a balcony, fall off the roof, and still pick herself up, if it comes down to it
– Peter Debruge, Variety
She's buzzing with mixture of authority and nervous energy, and that combination sells her as a very capable hero, but also as one who fully understands the force she's up against
– Perri Nemiroff, Collider
---
Is the movie scary? 
Here is where Halloween is most successful: it makes Michael Myers scary again. The masked killer is utterly inhumane here – he doesn't just kill people, he destroys them.
– Chris Evangelista, SlashFilm
While it features some brutally gory images and violence, it's not all that scary, with Michael's plodding yet propulsive walk and perfunctory killing style. The tension doesn't build until Michael faces a foe who can actually take him on – Laurie.
– Katie Walsh, Nerdist
There's a segment in the third act – which is incredibly strong – where Laurie is on the prowl for Michael and it's a nail-biting scene but that's the only part where I felt actual fear and wanted to cover my eyes.
– Jonathan Barken, Dread Central
This outing features a substantially larger kill count (and, pleasingly, some variety).
– Joe Lipsett, Bloody Disgusting
---
How faithful is it to the spirit of Carpenter's original?
(Photo by © Universal Pictures)
The prologue's message is clear: The legendary embodiment of evil requires no fancy makeover or character updates to continue his terrifying reign.
– Eric Kohn, IndieWire
We finally have a new Halloween movie that moves the franchise forward and respects its legacy.
– Perri Nemiroff, Collider
[Green] and McBride fill the script with comic riffs and referential winks to the original…
– Leah Greenblatt, Entertainment Weekly 
---
We're hearing grumblings about a doctor…
Michael's psychiatrist Dr. Loomis is long dead, and he's now in the care of a new doctor – Dr. Sartain (Haluk Bilginer). To be blunt, this character is absolutely terrible, and he's involved in a subplot that brings the entire movie to a screeching halt.
–Chris Evangelista, SlashFilm
My only problem with Halloween is a subplot involving Michael's doctor, who Curtis calls "the new Loomis," played by Haluk Bilginer. The cartoonish approach to his character is out of pace with the rest of the relatively grounded film…
– Chris Bumbray, Joblo
Not even a harebrained subplot centered on Michael's latest psychiatrist, Sartain (Haluk Bilginer), is enough to stop the momentum.
– J. Olsen, Cinemixtape
---
Which franchise newcomers stand out?
[Andi] Matichak proves to be a perfect final girl as Allyson, cut exactly from her grandmother's cloth: tough, smart, and principled.
– Katie Walsh, Nerdist
While he's not in the movie for long, young Jibrail Nantambu steals the show as Julian, a young boy being babysat.
– Jonathan Barken, Dread Central
Toby Huss just nails it as Ray, Allyson's father. That character is loaded with heart and "awkward dad" moments that make him an especially charming new addition.
– Perri Nemiroff, Collider
---
 There's a strong feminist message in here.
…Green, McBride, co-writer Jeff Fradley, and most importantly, star and big beating heart of the franchise Jamie Lee Curtis, made a film that's a profoundly feminist re-examination of its psychology of trauma through its iconography.
– Katie Walsh, Nerdist
Once Halloween returns to the original scene of the crime, it delivers the essence of its appeal in a single, focused routine — women fighting back against a faceless embodiment of toxic masculinity.
– Eric Kohn, IndieWire
---
Finally, how is Carpenter's score?
…Carpenter's original theme holds up nicely here, adding synthesizer chills to scenes in which Michael goes out stalking.
– Peter Debruge, Variety
Yes, the classic Halloween theme is here, but so is a whole new style of music, a blend of synth and rock – pulsating, pounding, beating like a heart.
–Chris Evangelista, SlashFilm
---
Halloween premiered on Saturday at the Toronto International Film Festival, and it opens in theaters October 19. Read all the reviews for it here.
#1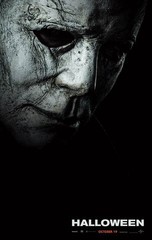 Critics Consensus:
Halloween
largely wipes the slate clean after decades of disappointing sequels, ignoring increasingly elaborate mythology in favor of basic - yet still effective - ingredients.
Synopsis:
It's been 40 years since Laurie Strode survived a vicious attack from crazed killer Michael Myers on Halloween night. She...
[More]